The US occupation of Japan in the aftermath of World War II hasn't garnered much attention from filmmakers, making the subject for director Peter Webber's Emperor rich ground for exploration.
At the end of World War II, in the aftermath of a brutal and extended conflict with the US culminating in those devastating nuclear attacks on Hiroshima and Nagasaki, Japan was forced into a surrender. Based on a book by Shiro Okamoto and adapted to screen by Vera Blasi and David Klass, we join the story as General Douglas MacArthur (Tommy Lee Jones), Supreme Commander of the occupying forces, is charged with organising Japan's recovery. Central to the success of this mission is in how they handle the fate of Emperor Hirohito.
Finding the Emperor guilty will please Washington DC but would likely lead to open revolt amongst the Japanese population, whose ideals of loyalty and devotion are ancient and ingrained. 'Japanese expert' General Bonner Fellers (Matthew Fox, Lost) is tasked with making a case for or against within ten days. However, with a tight web protecting the elusive Emperor, there is no guarantee of a clear verdict.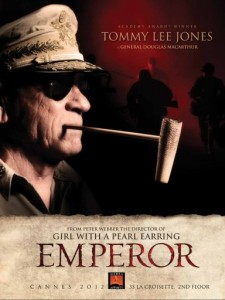 Fellers' personal connection to Japan is a girl named Aya (Eriko Hatsune), whom he met in college back in the States. Owing a debt to her and the country she calls home, he must come to a conclusion on what he deems to be in the best interest of Japan, regardless of what his superiors might desire.
With such interesting subject matter up for discussion, Emperor manages to do remarkably little. The period details of the scarred Japanese landscape are spectacularly vivid but the same praise can't be levelled at the script. Promising a compelling insight into post-war US-Japan relations in opening scenes, the film loses its way with flashbacks to Fellers' college days.
There is room for a romance in this story and it does explain Fellers' understanding and concern for the Japanese cause. However, this sub-plot serves only to litter a defining period of history with a trail of saccharine clichés.
Between Aya (the girl with such character-defining lines as 'you shouldn't have come', 'how do you say?', 'yes', and 'you are hurt!') and General MacArthur (the eccentric old man with presidential ambitions trying to get a broken country back on its feet, despite being hounded by a vengeful US government), I would like to have seen more of the latter. Fox tries his best but Jones is by the far the strongest presence from a fairly meagre cast.
The wider responsibilities, actions, consequences and attitudes could also have been explored in greater depth. I usually aim to not criticise films for what they aren't, but it really feels like a chance has been missed here, which is a shame.
Emperor is released on DVD through Transmission Films.