Continuing MIFF's dedication to including retrospective programs in their lineup, this year one of their programs is Shinning Violence: Italian Giallo, an exploration of the subgenre that thrived during the late sixties to early nineties and still attracts a dedicated fan base to this day. Screening alongside classics like Dario Argento's Deep Red (a masterpiece, and still arguably the high point of the genre) and Tenebrae, as well as Lucio Fulci's seminal early work Don't Torture A Duckling, are more obscure items like The Pyjama Case (set in Sydney of all places and starring Ray Milland) and A Quiet Place In The Country.
The film follows a painter, Leonardo (Franco Nero – the original Django), who moves to an abandoned mansion in the Italian countryside for inspiration, only to find it haunted by the ghost of a woman who may have been murdered there years before. Objects start appearing and reappearing, eerie sounds echo through the corridors and danger stalks Leonardo's girlfriend Flavia (Vanessa Redgrave) at every turn whenever she visits.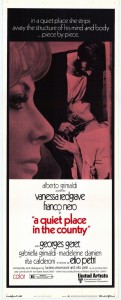 Using a new wave aesthetic, with jump cuts, atmospheric sound and hand held camera, combined with a truly giallo sensibility, director Elio Petri (who won an Oscar for his Investigation of a Citizen Above Suspicion) effectively brings the audience into the crazed, fantasy world of the main character. Often hallucinatory, it's a world characterized by expressionistic colour (naturally red is prominent) and psychedelic, experimental imagery. Through the sheer audacity and tone of this imagery, the film in its better moments, is genuinely creepy and disturbing, especially during Leonardo's first night in the haunted house. However, the film becomes woefully inconsistent, and succumbs to its many, many flaws.
The biggest problem is trite ridiculousness of the characters and story. It indulges whole-heartedly in the stereotype of "the artiste" in presenting the "inspiration" of its main character, to the extent that it makes a complete and utter moron out of him. Nero's over the top performance doesn't help matters much either. Redgrave (really slumming here) gives a fine performance despite the material she's given. Coming with the terrible story and characters, is some of the worst dialogue ever spoken in any film; that was hopefully a casualty of some shoddy translating and dubbing, but based on the context in which it appears, perhaps not.
Thoroughly inept and inspiring unintentional laughter throughout,  A Quiet Place In The Country transcends the worst of the genre and would be more at home in the cannon of Ed Wood than an Academy Award winning film maker.
A Quiet Place in the Country screened at the 2013 Melbourne International Film Festival.