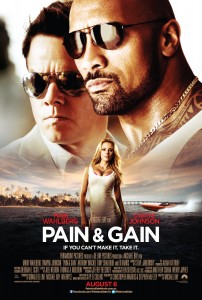 These days seeing Michael Bay's name attached to any project is almost synonymous with trash with Pain and Gain is certainly no exception. Set in Florida in the mid 1990s, this film is 'based' on an unbelievable true story of three bodybuilders, Danny Lugo (Mark Wahlberg), Adrian (Anthony Mackie) and Paul (Dwayne Johnson) who find themselves in a mess after they kidnap and extort millions of dollars from client Victor Kershaw (Tony Shalhoub).
Christopher Markus and Stephen McFeely (Captain America,The Chronicles of Narnia) have written some truly superficial, obnoxious and detestable characters. One would hope actors like Wahlberg and Johnson would have brought something to their roles but the main issue is they really don't have anything to work with. Pain and Gain's surprising saving grace is Rebel Wilson's performance as Robin, Adrian's wife. She gets some good one-liners and adds excellent character in an otherwise dreadfully dense selection of people.
This film is in your face from start to finish with Bay's camera work, quick edits and over the top slow motion farewelling any kind of subtlety, quite appropriate considering the egos of the characters involved.
Pain and Gain isn't an action-packed comedy, it's offensive, boring and way too drawn out. Failing to be entertaining on the most basic of levels, around the halfway mark you're wondering how it could possibly continue. Whether the encompassing parody is deliberate or not it is very unsettling.  There is nothing to offer audiences other than a smorgasbord of grotesque behaviour that has associated with progression and the American Dream.
At over two hours, there is lots of pain and very little gain. What hurts the most is this film cost (a conservative) US$26 million to make. Wow.
Pain and Gain is in Australian cinemas from 8 August through Paramount Pictures.