Actress Greta Gerwig and writer/director Noah Baumbach first worked together on his 2010 film Greenberg, and within a year, found themselves in a romantic relationship. Now they've teamed up again (at least in a creative sense) to deliver Frances Ha, which has a screenplay co-written by the two collaborators, Baumbach directing, and a central performance from Gerwig herself.
Gerwig plays the eponymous 27 year old heroine, who is perhaps best described as an awkwardly exuberant dreamer. Pursuing her vague career aspirations in modern dance while also trying to meet her financial obligations, Frances's world is upturned when her closest friend Sophie (Mickey Sumner) moves out to live with her investment banker fiance.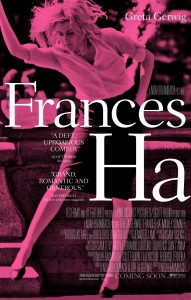 Unable to afford the rent needed to continue living in their apartment, Frances drifts from one half-baked living situation to another. In the process, she slowly comes to terms with her newfound independence, since relying on her overly dependent friendship with Sophie as a buffer from the impending demands of adulthood is no longer an option.
The fact that film was shot in black and white, set in New York, and populated by neurotic creative types would inevitably bring to mind comparisons with Woody Allen's Manhattan for many. But Baumbach's approach here is best described as falling somewhere between the sardonic class paradoxes of Girls and mumblecore's loose, improvisational feel in terms of subject matter and tone.
Gerwig deserves a significant amount of credit into making the character of Frances more sympathetic than her obnoxiously whimsical exterior should allow her to be. For all of the flighty impulsiveness and blatant selfishness, you can't help but cheer her on as she clumsily attempts to steer her life into a meaningful direction of sorts.
At turns exuberant, witty and poignant, Frances Ha is a refreshing take on the quarter-life crisis, and one can only look forward to Baumbach and Gerwig's next joint venture.
Frances Ha will be in limited release from August 15 through Transmission Films.