Adrian (Devos Murphy) is a ten-year-old growing up in a un-named dilapidated New Zealand neighbourhood. His mother has deserted him and he now lives with his caring but tough grandmother (Sophie Roberts) and manic depressive uncle Rory (Matthew Sunderland). Neither of them have it in them to provide the care he needs and Adrian tries to use his imagination to deal with his seeming rejection from the world . School is no better, where Adrian's nurturing and sensitive traits are also unwanted, the dominant kids being anarchic and cruel.
When a mysterious girl his own age, Nicole (Angelina Cottrell), moves in across the road from his own house with her family, Adrian is intrigued. As Nicole and her siblings don't attend school, Adrian thinks they may be connected with a widely publicised kidnapping of three young children, a story he has become fixated with. With no-one else to turn to, together they start to forge a cautious friendship as each tries to figure the other out.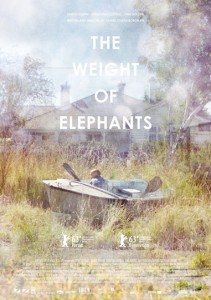 With strong performances across the board, Daniel Borgman's bleak portrayal of childhood trauma (an adaptation of Sonya Hartnett's novel, Of A Boy) is anchored on newcomer Murphy's devastating depiction of this besieged kid, which is nothing short of remarkable. Also impressive is Cottrell, whose accusatory Nicole is a stark contrast to the more submissive Adrian. Their cautious relationship is one of the main reasons this film works so well, another being Adrian's harrowing but touching relationship with Uncle Rory.
If this movie could be criticised for something, it would be a tendency to rub in the misery a little too much. The school children seem to have a bit of Lord of the Flies about them, revelling in pointless destruction, and are perhaps a little too brutal (where on earth do ten-year-olds get explosives from?). Likewise, when a replacement teacher orders Adrian to stand up and spell 'mischievous' for no apparent reason (what ten-year-old would know that one), it just seems like another excuse to feel sorry for him, as if we didn't feel sorry enough.
Beautifully filmed by Sophia Olsson, with a clear Scandinavian influence, the aesthetics might obscure the story a little at times but this is a minor trifle. Adrian's life is anything but straightforward (I'll say it again; it's just very bleak) and so the plot can be forgiven for swaying every now and then. The end pay-off more than makes up for it.
The Weight of Elephants is screening as part of the 2013 Melbourne International Film Festival.