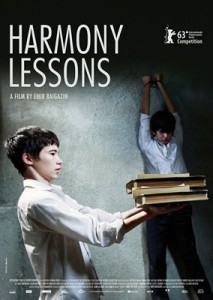 Aslan (Timur Aidarbekov) is a highly intelligent 13-year-old living with his grandmother in a rural Kazakhstan village. Ostracised from his peers at school, he is severely bullied by Bolat (Alsna Anarbayev), a low-ranking player in a much bigger racketeering scheme, taking money from young boys to give to convicts in prison. Aslan finds an ally in Mirsain (Mukhtar Andassov), a new student from the city who isn't afraid of Bolat and his threats.
Violence plays a big part in these children's lives, with every shred of innocence stripped from them and each day very much survival of the fittest. Methodical and calculating Aslan slowly plans his revenge, building an elaborate torture chamber for cockroaches he has captured. Once we see what he is capable of inflicting on animals, we know the way the film is headed.
Slow moving, yet intriguing, Harmony Lessons overwhelms us with symbolism. First time writer/director Emir Baigazin keeps us guessing until the very end, making it very hard to differentiate the fusion of dream sequences and reality.
The beautiful cinematography juxtaposes the harsh visuals we see from the film's onset, the landscape distracting us from the extreme oppression within its frames. Harmony Lessons opens with what is first thought to be a playful scene of Aslan chasing a sheep around his yard but what turns into the boy slaughtering, skinning and disembowelling the animal. The children's primitive behaviour evokes similarities with the animal kingdom, with the unfortunate question of whether these children will break out of the existing behaviours around them.
Ultimately this haunting Darwinian tale of violence and morality is a social commentary on the normality of violence and crime in the region. One can only hope the extreme brutalisation against children from the police force is an exaggeration of current times in Kazakhstan, rather than a reality.
Harmony Lessons is screening as part of the 2013 Melbourne International Film Festival.