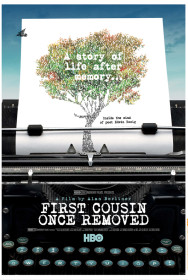 Filmed over the course of five years, First Cousin Once Removed is an intimate portrait of poet Edwin Honig, a man suffering from Alzheimer's disease, in the final stages of his life. The man on the other side of the camera is Alan Berliner, whose mother was Honig's first cousin. Anyone who has been unfortunate enough to witness a loved one's decline at the hands of this debilitating disease knows what to expect from this film.
Honig was an intellectual first with everything else, including his family, taking a back seat. There were a plethora of accomplishments throughout his life, from being knighted by Spain and Portugal to the impact he had as a literary professor at Brown University. In the end they meant nothing to Honig, as he sits in his armchair trying to make sense of his ever confusing surroundings.
One can deduce First Cousin Once Removed is deliberately disjointed and fragmented, much like Honig's thoughts and feelings. Through photos and old letters as well as interviews with family and friends, Berliner shows us, and Honig, the man he used to be. Occasional moments of lucidity give us a glimpse of his brilliance and right until his death there were times where he spoke like the younger poet he once was.
However Berliner's filmmaking techniques, most notably his use of text on the screen interspersed with typewriter sounds, completely detract from the sensitive subject at the forefront of his film, agitating rather than aiding his audience. In this tribute film he has succeeded in preserving the memory of his mentor, but has fallen short in creating any kind of lasting emotional force.
Memory is incredibly fragile and ultimately forms our identity. We must try and remember our past, but it is important to forget as well.
First Cousin Once Removed is screening as part of the 2013 Melbourne International Film Festival.