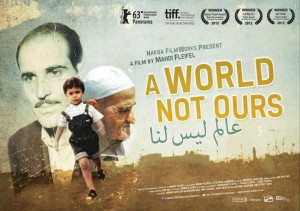 "I bet most of the guys who blew themselves up feel the same way I do. No future, no work, no education…no nothing."
A World Not Ours throws us headfirst into the Ain El-Helweh refugee camp in southern Lebanon, home to 60,000 refugees confined in a square kilometre united by their constraints and their love of the World Cup.
Filmmaker Mahdi Fleifel was born in Dubai in 1979 where his father had moved for work but spent his younger years in the camp. After packing up their lives and immigrating to Denmark he has travelled back and forth, keeping a video diary of his time at Ain El-Helweh.
 "I was born in this fucking country, but they treat you like shit. We're not allowed to work at all, not even if you have a college degree. Can you imagine how that feels? Have you ever heard of something so despicable?"
We get to see all kinds of residents expressing their grievances, particularly with Lebanon and Israel. Everything isn't fine and it seems as though these people have been left to their own accord without any external aid.
At the heart of this film is Fleifel's friendship with Abu Eyad, a man trapped in the camp constantly wondering "what if?". For many of the residents, life outside is simply too scary and overwhelming. Where would they go? What would they do? This initial despair of life in the camps slowly turns into acceptance, as sometimes it's easier to just exist and be content than to strive for a better life.
A World Not Ours gives us a unique look at a corner of the world we would be unlikely to encounter otherwise, adding a jazzy score and humour throughout to perk up an otherwise grim subject. Informative and grounding, this film shows us how frequently we take identity for granted.
A World Not Ours is screening as part of the 2013 Melbourne International Film Festival.