Mark Hartley is remarkably calm for a filmmaker in his position. His debut fictional feature, a remake of the late Richard Franklin's seminal ozploitation classic, Patrick (1978), is making its world debut at the Melbourne International Film Festival in a couple of weeks' time. The story, as in the original, tells the story of a Nurse, Kathy (Sharni Vinson), who comes to work at the mysterious Roget Institute, ran by Dr. Roget (Charles Dance) and Matron Cassidy (Rachel Griffiths), and home to the comatose title character (Jackson Gallagher) who has psychic powers and develops an unnerving attraction to the beautiful Kathy.  The film has only been officially locked for two days when the director of the well-received documentaries Not Quite Hollywood: The Wild, Untold Story of Ozploitation! (2008) and Machete Maidens Unleashed! (2010) (both of which played at MIFF in the past), stopped by an early morning screening for reviewers to sit in on the start of the film.
I chatted with him casually before watching the movie. He was at once both frank and generous with praise for his cast and crew.
"They were great", he says. "It was hard on a 25 day shoot, but we just went and did it".
When asked about how it was to work with producer and industry veteran Antony I. Ginnane after chronicling his exploits in Not Quite Hollywood, a smile crosses his lips.
"It actually kind of prepared me for it. Nothing crazy happened like the first twenty pages getting thrown out", he says, referencing an infamous anecdote from the making of Turkey Shoot that Ginnane produced.
"Tony was great though, he didn't interfere at all and only showed up on set a couple of times to make sure we weren't going into overtime", he laughs. "He watched the edit and didn't force me to make any changes, everything in the final cut you're about to see is mine".
The film marks a homecoming of sorts for Hartley to the films chief producer and domestic distributor Umbrella Entertainment, who he made documentaries and featurettes for on a series of DVD releases for locally made films.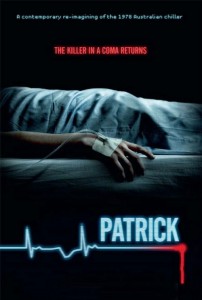 "A lot of those films would never have been seen again if they hadn't put them out", he says with some pride.
"I was working on getting Not Quite Hollywood going when I did an interview with Brian Trenchard-Smith for Turkey Shoot (which can be seen on the Umbrella DVD). I met up with Jeff (Harrison, Umbrella's founder and Managing Director); it was just a small company then".
Hartley has been a fan of Australian genre films since his teens and, in much the same way Franklin invited his idol Alfred Hitchcock to speak at his film school USC, Hartley himself invited Franklin to speak at his high school.
"I found out we both went to the same high school, so I invited him and he came", he says. "We put a portrait of Richard in an early scene in the film as a tribute to him".
The film also features the music of legendary Italian composer Pino Donaggio whose work includes many of Brian De Palma's films (including another MIFF entry this year, Passion), as well as giallo thrillers for the likes of Dario Argento and Lucio Fulci, who have a clear influence on Hartley's Patrick (especially Fulci, with not one, but two homages to his trademark eye gougings).
"That was one of the greatest experiences of working on the movie. We gave him 90 minutes of movie and he came back with 80 minutes of music, it was incredible".
Next on the agenda for Hartley is the highly anticipated conclusion to his loose trilogy of documentaries about exploitation film centered on eighties independent film company Cannon Group; which was responsible for some of Chuck Norris and Jean-Claude Van Damme's earlier work, as well as the latter action vehicles of Charles Bronson. He recently got permission from MGM to use clips from their extensive library of HD masters (which includes the rights to the majority of Cannon's films).
"We start shooting in January-February", he confirms.
And have the cousins behind Cannon, Menahem Golan and Yoram Globus, agreed to participate in it yet?
"They're highly suspect of it", he reveals. "We're going for everyone else first like we did on the other two and then hopefully they'll agree".
Patrick is screening as part of the 2013 Melbourne International Film Festival and will be in Australian cinemas later this year through Umbrella Entertainment.