It has been more than 10 years since Nick Frost, Simon Pegg and Edgar Wright teamed up to make Shaun Of The Dead, thus beginning the aptly named "Cornetto Trilogy", and finally, the trilogy comes to a close with The World's End. Sticking with the genre-spoof theme, The World's End is an end of the world science-fiction film where a group of old school mates are coaxed back to their home town in order to finish a pub crawl they couldn't quite complete in their teen years, but the locals are a bit weird.
There are some twists and turns and the plot thickens to a point, but it didn't quite go far enough. The beautiful thing about the science-fiction genre is that you can take it anywhere you want it to go, and if you're spoofing it, you can make up any old excuse for anything that happens, but unlike Hot Fuzz and Shaun of the Dead, the focus wasn't on the genre stereotypes, but on the development of the characters. Simon Pegg plays Gary King, a perpetual teenager whose life did not get any better after high school. He's a dick, basically, who never quite redeems himself, or makes up for the shit he's done to his friends.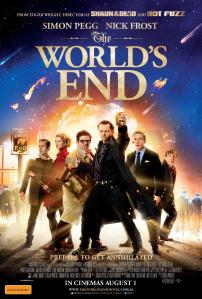 As representatives for Earth go, he wouldn't be first choice, but he is in the right place at the right time to put in his two cents worth, and messing up everything. There are some stellar moments, such as identical twins who have been destroyed by Gary King only to come back to life with rotating legs for arms, but for the most part the films feels like it is perpetually ramping up to something exciting that never happens. There's no ridiculous high speed car chase/shoot out, no major realisation in the pathetic main character who should have so much potential (besides chaos and alcoholism), it's just a few awesome fight sequences, a little bit of dilly dallying about what to call the alien invaders, some reminiscing and a ridiculous ending that is way off centre and seemingly just slapped on the end like a final chapter that was never published with the original.
Pre-final sequence, the film is enjoyable, the supporting cast are on-key; Nick Frost is a bang-on lovable loon, Martin Freeman is a great up-tight loser who is constantly attached to his blue-tooth head piece, and there are notable guest appearances from Cornetto Trilogy regulars such as Bill Nighy and David Bradley. So grab a Cornetto, lower your expectations, and enjoy the finale of the trilogy.
The World's End is in Australian cinemas from 1 August through Universal Pictures.