Debuting at MIFF 2012, it seems a little strange that brothers Colin and Cameron Cairnes' 100 Bloody Acres (writing and directing) had to open in the US to generally rave reviews before making it to Australia. It's a good thing it made it back at all because this is one Australian film deserving of a wider audience.
The timid Reg Morgan (Damon Herriman) and his domineering brother Lindsay (Angus Sampson) run a small outback business supplying organic fertiliser. Well, Lindsay runs it and Reg follows more out of fear than anything else. However,  they're struggling to sustain their secret recipe and when Reg encounters a group of young festival goers stranded on a country road, he sees an opportunity to take some initiative.
Sophie (Anna McGahan), her boyfriend James (Oliver Ackland), and their friend, Wes (Jamie Kristian), have a complicated triangle happening but that all starts to unravel as Sophie flirts her way into a lift with Reg, unwittingly growing her tally of admirers to three. But 'Linds' has more agricultural plans for them and as he says, 'these are the risks you take when you operate a small business.'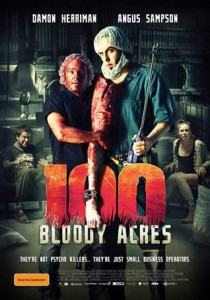 There aren't a lot of surprises in this mock Wolf Creek, not that that detracts from what is a thoroughly enjoyable 90 minutes. The duo of Herriman and Sampson are clearly having a ball playing a pair of the chalk and cheese country lads, never overplaying their hands, and are in turn well supported by McGahan as the point of contention.
Surrounding these characters is a fond view of country life, littered with details which you can't help but smile at – the hand-painted signs from the same local painter; the daggy local radio presenter with a penchant for Slim Dusty; and the old-timer who always seems to be coming straight from the bowls green. It is a stark contrast to the foreboding wilderness that Wolf Creek drew strength from, and something which distinguishes this from a straight up parody. However, it does involve a nice little cameo from John Jarratt, the original truckie from hell, as the local cop.
Relying as much on physical humour as scripted, the first half-hour is a little slow, but from there the absurdist gags really pick up pace. And while the film revels in low budget gore at times, it's a credit to the Cairnes brothers that they haven't completely depended on it, romantic entanglements abounding, and the relationship between the two brothers a particular highlight.
As far as Australian comedy goes, it's not quite up there with The Castle or for me, Crackerjack. But for what it is trying to do, they've given it a fair crack.
100 Bloody Acres is on limited release in Australian cinemas through Hopscotch Films.