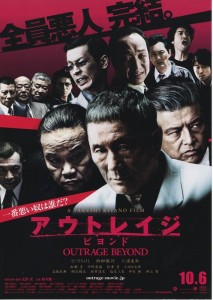 Set five years after the first instalment of director Takeshi Kitano's proposed gangster trilogy and taking its narrative cues from Coppola's Godfather Trilogy, Outrage Beyond follows the surviving gangsters of that first film and their attempts to legitimise their businesses but falling helplessly back into the old ways of the yakuza.
The plot of the film concerns corrupt police man, Kataoka (Fumiyo Kohinato), focusing on advancing his career by staging an elaborate war between two factions of the Sanno-kai crime syndicate, now led by Kato (Tomokazu Miura) who orchestrated the death of the gang's leader in the first film, and throwing into the middle the sociopathic Otomo (director Kitano under his stage name "Beat Takeshi") who was supposedly killed off at the end of the first film.
Outrage Beyond is effectively a continuation from that first film. It continues the same structure of a series of tit-for-tat murders between the rival gangs, all shown in stylish but grisly detail, but focusses slightly more on the inner workings and behind the scenes scheming of the mobsters. The film again features Kitano's signature minimalist aesthetic that works extremely well with his widescreen compositions. His performance as usual is restrained with intermittent releases of furious bouts of energy which continues to make him potentially the most exciting star of Asian cinema at the moment.
The main flaw is that the film simply doesn't bring anything really new to the proceedings, but fans of Kitano and his previous gangster films will no doubt find a lot to like here regardless.
Outrage Beyond is screening as part of the 2013 Melbourne International Film Festival.