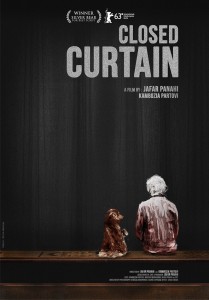 Following the documentary This Is Not A Film, Closed Curtain marks director Jafar Panahi's second movie (co-directed by Kambuzia Partovi) since a six-year home imprisonment sentence and twenty-year ban on film making was imposed on him by the Iranian government.
The story involves a screenwriter (Partovi) coming to the beachside villa of a friend (Panahi) and isolating himself to get some work done. He blacks out the windows to hide his loyal canine companion, simple referred to as 'Boy' (dogs are considered unclean under Islamic rule a television report informs us), and starts work on his new script. He is soon disrupted by a Brother (Hadi Saeedi) and Sister (Maryam Moqadam) duo who barge into his house seeking protection from the police who have just broken up a beach side party during which some people were drinking. He protests but eventually concedes to look after the Sister while the Brother goes back out in search of a car or phone for help. From this point on the film becomes very much a fractured and deliberately unclear narrative that ventures daringly into surrealism.
Taking place entirely from within the villa (shots showing the sea outside the window feel like a breath of fresh air) and filmed on crisp digital video, the film is deliberately paced, which as is always the case, will lead some to find it downright boring. The patient viewer however will find it a rewarding experience and (given the context under which it was made) rich in subtext.
Despite feeling occasionally labored at times – forgivable considering the circumstances under which it was made – Closed Curtain is an always interesting and an extremely poignant reminder of Panahi's situation and dedication to his passion for filmmaking.
Closed Curtain is screening as part of the 2013 Melbourne International Film Festival.