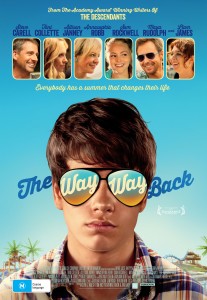 Courtesy of StudioCanal, Film Blerg is giving away 10 double passes to see Toni Collette and Steve Carell in THE WAY, WAY BACK, in cinemas August 1.
Film Synopsis: THE WAY, WAY BACK is the funny and poignant coming-of-age story of 14-year-old Duncan's (Liam James) summer vacation with his mother, Pam (Toni Collette), her overbearing boyfriend, Trent (Steve Carell), and his daughter Steph (Zoe Levin). Having a rough time fitting in, the introverted Duncan finds an unexpected friend in gregarious Owen (Sam Rockwell), manager of the Water Wizz water park. Through his funny, clandestine friendship with Owen, Duncan slowly opens up and begins to finally find his place in the world—all during a summer he will never forget.
How to win:
Visit our Facebook page and hit the "SHARE" button on the THE WAY, WAY BACK status.
Write "Win a double pass to see Toni Collette and Steve Carell in THE WAY, WAY BACK" in the write something section.
Send your name and address to giveaways@filmblerg.com with THE WAY, WAY BACK in the subject.
Competition opens 9am AEST Monday 22nd July, 2013 and closes 5pm AEST Friday 26th July, 2013.
Terms and conditions
Passes are eligible only to Australian residents.
Film Blerg and the StudioCanal cannot be held accountable for any delay or loss of prizes.
You must follow Film Blerg on Facebook or Twitter to be eligible.
Any information sent remains confidential.