Oh, man, I love Before Sunset. Do you remember the ending?  Do you remember everything about that film?  He's got to leave. A plane to catch.  He doesn't want to leave.  She doesn't want him to leave. Nina Simone is playing.  One-two-three-four, the piano taps, one-two-three-four. Celine is dancing. Jessie watching. Clock ticking.  As tense as tense can be. Kiss her, you fool.  Then, the line, oh, that great line. Could there be a better line? Of course not, it's perfect. 'Baby, you're going to miss that plane.'
I don't think I've fallen in love with a movie quite like I did the first time I saw with Before Sunset.  It's the perfect sequel. No, that's not an oxymoron. It's perfect. I remember being immediately blown away by the fluidity of the film; the dialogue was hilarious, easy, indulgent, annoying, personal, naive, deep, emotional and every other adjective along the way, above all else though, it appeared sublimely authentic and all the while natural.  Unlike other sequels that seek to outdo their predecessors, Sunset continued the story of Celine and Jessie like the second track on an already great record.
Now, some nine years on, we reconnect with the two on the last day of their summer holiday in the Greek Peloponnese Peninsula. The film opens at the airport, as Jessie (Ethan Hawke) sends his adolescent son, Hank (Seamus Davey-Fitzpatrick), onto a plane that will send him back to the States and to his disgruntled ex-wife.  We quickly learn that the separation from Hank is a point of frustration for Jessie, and no sooner is he in the car with Celine (Julie Delpy) and their two daughters than is he placating for the family to move back to Chicago.  As you might expect, the two start deliberating the move with the same vigor we've come to expect from the couple, with everything from ambition, sex, literature and politics discussed along the way.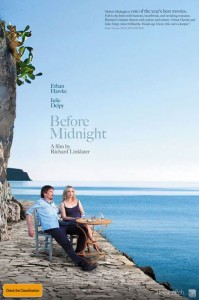 It's fascinating to revisit these characters again, the way in which writers Richard Linklater (and director), Delpy and Hawke tell the story of these two characters is effortless. Delpy and Hawke relate to one another as if they've been playing these characters every day since the Before Sunrise wrapped.  Like the actors themselves, the characters have aged, no longer young idealists, but now shaped by years of parenthood and life; and it is this development that makes Before Midnight an impressive sequel in this trilogy. The film, like the characters themselves, has matured.  Opposed to giving us more of the romantic, Midnight gives us something much more real, showing us a relationship founded in true love, but weathered by nearly two decades.
As one might expect, Linklater's direction is as unobtrusive as ever, seemingly capturing a moment between the characters as opposed forcefully telling their story.  If Linklater has a watermark as a director, it's in his ability to let his actors move freely, creating a feeling of simplicity and freedom.  Like the pervious films, the backdrop of Europe is once again captured in stunning light, with cinematographer Christos Voudouris painting some beautiful compositions.
Whether or not the trio will return for another chapter in Celine and Jessie's history is hard to say, and even more difficult to have to wait for, but for now, Before Midnight is essential viewing.
Before Midnight is in Australian cinemas from 18 July through Hopscotch Films.

Don't Talk – Julie Delpy and Ethan Hawke – CENSORED from Alamo Drafthouse on Vimeo.