The Big Lebowski is a classic piece of black comedy from iconic filmmakers Joel and Ethan Coen, it's been around for 15 years and has built up quite a fan base in that time. The film inspires dress ups and avid participation from audiences at special screenings, several of which have happened around the world since the inaugural event last year at the Astor theatre in St Kilda. There were White Russian's aplenty and excitement was building as we were called into the cinema to begin proceedings.
First came a bit of trivia about the film with small prizes, a costume competition, the men's category of which was won by Neville, a man who had come all the way from Perth for the event, for his 70th birthday, who's sons came dressed as the band Autobahn. All this made no sense to a first timer who saved their first viewing of the film for a special occasion, and I was ready for the film to begin.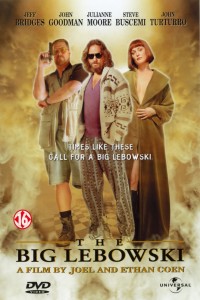 "The Dude" Lebowski (Jeff Bridges) is mistaken for the millionaire Lebowski by a couple of thugs looking for a debt to be settled. The Dude decides to go see his counterpart for compensation after the thugs urinate on his rug and finds himself running money to some shady characters on the millionaire Lebowski's behalf. What should have been a one off job with a big payout turns into much more trouble when The Dude's buddy Walter (John Goodman) gets involved.
Endlessly quotable, over the top and ridiculous, The Big Lebowski is simply put, a comedy classic, and the event is a must for lovers of the film to dress up, drink milk kahlua and vodka, and have a good old time with some fellow nuts. Jeff Bridges is classic as The Dude, effortlessly cool, and amazingly chill in a multitude of ridiculous situations, Julianne Moore is incredibly sexy as the bohemian, jilted daughter of the millionaire Lebowski and Steve Buscemi is so cute as a young, clueless Donnie – The Dude and Walters bowling buddy. John Turturro makes a classic cameo as Jesus the weird, offensive bowling creep who likes to clean his balls.
Lactose intolerant people may not need to worry about getting involved in the White Russian action next year as I went to a convenience store and bought my own soy, that's how great this event is, you just want to get involved. Plus after the film you can get a burger from the in n out burger downstairs. It's probably not the best way to see the film for the first time, but it certainly makes it memorable.
The Big Lebowski Second Annual Big Bash occurred on Saturday 13th July, 2013 at the Astor Theatre in Melbourne.