In Cold War, written and directed by Longman Leung and Sunny Luk, Hong Kong's reputation as Asia's safest city is undermined when several officers and expensive equipment, along with a police van, disappear. Afterwards, the plot meanders into more complex territory, and the rescue operation comes to reveal a more sinister presence has pervaded the police force. Overall, the film is an action-thriller with solid performances and an intriguing premise, although there are issues in its relentless pacing.
Sean Lau (Aaron Kwok) and Waise Lee (Tony Leung) are both deputy commissioners in the Hong Kong police force. Whilst the police commissioner is overseas, an anonymous phone call is made informing the police about the missing van, equipment and police officers. Both deputy commissioners attempt to lead the rescue operation, codenamed 'Cold War', and both seek to employ different tactical approaches. Additionally, whoever leads the operation will secure an opportunity to prove their worth in the role of (acting) head commissioner, and potentially be promoted in a few years.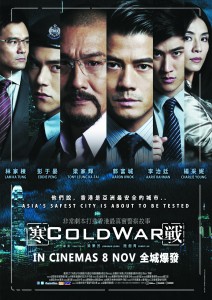 However, as they strive to gain control over the situation, it soon becomes clear that in addition to facing pressure from an unknown external threat, internal factors are working to undermine their success. Investigations suggest a mole is in their midst, and the race is on to regain the upper hand.
From the start, the film's plot unfolds quickly, only letting up to reveal small glimpses into Lau's family life. One event seems to blend into the next, building a momentum which renders the intricacies of the plot confusing to follow at times. To ameliorate this, the fast pacing could have been interspersed with quieter moments to focus the suspense at crucial points and allow finer plot details to become clearer.
The performances are solid throughout, although some more time spent on fleshing out key relationships could have been made, especially in light of the film's ending. The strongest performances come from the two competing deputy commissioners. Aaron Kwok manages to sustain an internalized tension that matches the high stakes situation he is attempting to control, whilst Tony Leung is domineering and aggressive. Together, they provide two effective, complementary performances.
Overall, Cold War is a reasonably well-executed action thriller, with an absorbing plot and enough twists and turns to keep audiences vested in the eventual outcomes.
Cold War has recently been released on DVD in Australia through Madman Films.