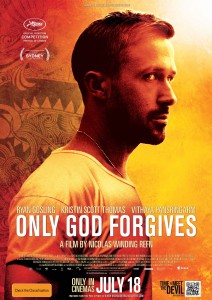 Courtesy of Icon Films, Film Blerg is giving away 3 double passes to see Ryan Gosling in Nicholas Winding Refn's ONLY GOD FORGIVES, in cinemas July 18.
Film Synopsis: Nicholas Winding Refn (Drive) directs this stylish east-meets-west thriller, set in the back alleys of Bangkok's criminal underworld. Julian (RYAN GOSLING) runs a Thai boxing club in Bangkok, as a front for his drug business.  When Julian's brother (TOM BURKE) is killed, after savagely murdering a young prostitute, his mother (Kristin Scott Thomas), the head of a vast criminal organisation, arrives to collect the body. Crazy with rage and thirsty for vengeance she demands the head of the murderers from Julian; but first, Julian must confront Chang (Vithaya Pansringarm), a mysterious retired policeman – and figurehead of a divine justice. This sets in motion a range of events, that leads to a bloody path of rage, betrayal, ultimate confrontation and possibly even redemption.
How to win:
Visit our Facebook page and hit the "SHARE" button on the ONLY GOD FORGIVES status.
Write "Win a double pass to see Ryan Gosling in ONLY GOD FORGIVES" in the write something section.
Send your name and address to giveaways@filmblerg.com with ONLY GOD FORGIVES in the subject.
Competition opens 9am AEST Monday 8th July, 2013 and closes 5pm AEST Friday 12th July, 2013.
Terms and conditions
Passes are eligible only to Australian residents.
Film Blerg and the Icon Films cannot be held accountable for any delay or loss of prizes.
You must follow Film Blerg on Facebook or Twitter to be eligible.
Any information sent remains confidential.