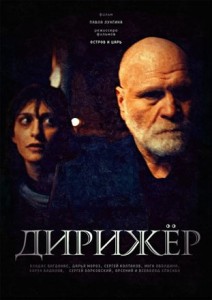 Does hard work always equate to success? How are we obliged to people, how do we mend when our relationships are fractured? What happens to a devoted woman who professes "marriage is forever" when her husband says he no longer loves her? Or to an aging man who learns he could have prevented his son's suicide? Life is about misunderstandings and barriers between people, the cause of so much grief in the world and in the lives of the central characters of The Conductor.
Vyacheslav Petrov (Vladas Bagdonas) is a stern and stubborn man, a leading conductor in Russia who is taking his orchestra to Jerusalem to perform the famous Matthew Passion. Upon arriving in Jerusalem he discovers his son hanged himself due to severe debt, but even though he could have come to his aid he declares his disdain.  His spiritual awakening is a slow progression with no easy answers.
Intense close ups of his face show aged, alone and empty eyes, his stoicism for the first half of the film quite disheartening. No human emotion seems to have any effect on him and despite being surrounded by countless people, he doesn't let anyone in, content with a life of solitude. The orchestra he dedicates his life to doesn't even seem to bring him joy.
Operatic in its entirety, at its core The Conductor has a heart, but it is surrounded by substantial implausibility that makes it hard to find. It might have grand theatrics, but ultimately falls flat. Director Pavel Lungin (Tsar, The Island) paints a portrait of life void of colour, love and vibrancy. Its characters aren't living, but merely existing. With a heavily religious backdrop, Jerusalem is the perfect location to set this existentialist drama. An impossibility to get along and to see past our differences will only create further division and, as we see here, often this is realised when it is too late.
The Conductor is screening as part of the 2013 Russian Resurrection Film Festival. For session times and further info, visit the RRFF website.