It's New Year's Eve and the snow-caked streets of Moscow are at a standstill. Valentin (Victor Shamirov, also directing), a bald downtrodden man, whose marriage has gone stale, is in town staying with his more successful but equally glum brother, Artyom (Gosha Kutsenko). Their father has had tests to determine the severity of a brain tumour and the results are not friendly reading. Unfortunately due to the unforgiving traffic, Valentin is missing his train home to give their mum the news in person.
Valentin is forced to stay and consequently interrupts Artyom's preparations for a prestigious work function. Furthermore, they find themselves babysitting the neighbour's 13-year-old daughter, Alyona (Aleksandra Petrova), whose own plans have been interrupted by her mother's arrest. Attempting to traverse the impenetrable Moscow landscape, all to the music of Tariverdiev (alluding to a 1975 Soviet cult film, The Irony of Fate), Artyom can only be left to think that the fates are plotting against him.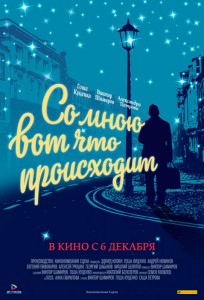 You certainly wouldn't classify this as a comedy but there are comical elements dotted throughout, which is for the best because otherwise this could have been a bit grim. On the contrary, this ode to family, carefully co-written by Shamirov and Kutsenko, has a indisputably modest charm about it.
Marked by seemingly pointless conversations about everything from smoking to ball preparations, Valentin's bitter wife to singing advice, this is a film firmly grounded in reality without having a particular plot in mind. The lead characters all appear unfazed by minor inconveniences at first but as these snowball through the day, we discover a deeper sympathy for their situations. Emotion supressed at first, whether out of denial, pride, embarrassment or hopelessness, slowly bubbles as their problems are unearthed.  In the end, these snapshots contribute to a portrait of day-to-day life where the importance of family is smothered by trivial preoccupations.
The relationship between the two brothers, played beautifully by Kutsenko and Shamirov, is restrained but clearly warm and their assumed responsibility for the resilient but vulnerable Alyona, also impressive, is genuinely touching. Needless to say, it's nice to have a story where all the main characters aren't utter jerks.
At only 75 minutes, this film doesn't overstay its welcome although it feels more like two hours given the snail-paced progress. The opening scenes do test the patience, given their lack of direction. However, the message emphasising the value of family and altruism is an endearing one that lasts beyond the final credits.
This Is What's Happening to Me is screening as part of the 2013 Russian Resurrection Film Festival. For session times and further info, visit the RRFF website.


This is What's Happening from Russian Resurrection on Vimeo.