Upon its local release earlier this year, Metro was billed as Russia's first Hollywood-style disaster movie. For better or worse, this is a fittingly accurate summary as to what audiences can expect from director Anton Megerdichev's attempt to transplant mayhem and destruction of the American variety to the subways of Moscow.
The film follows a diverse group of Moscow citizens who find themselves trapped in the city's underground rail network, their train derailed and virtually crushed after an aging tunnel collapses. Amongst this band of survivors is softly spoken surgeon Andrey (Sergei Puskepalis), whose wife is having an affair with the conceited businessman Vlad (Anatoly Beliy). Fate brings these two men together on the same doomed train, but there is little time to resolve their differences, as the tunnel begins to quickly fill with water, forcing them to work together with the others and find a way back to the surface.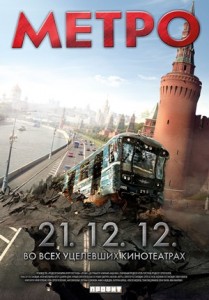 Reportedly made on a budget of $13 million, it by no means has the resources at the disposal of its Hollywood counterparts. Despite this, it still manages to present itself as a much more expensive production than it actually is, particularly with respect to the set design and special effects. The initial crash scene in particular is a highlight, proving to be both visceral and somewhat confronting by effectively weaving together a number of deaths in all of their gruesome, slow motioned detail.
The film fails to reach similar heights from there on out, instead veering full steam ahead into predictable genre cliches. Rather than lending an emotional core to proceedings, the conflict at the heart of the central love triangle is never expanded upon in any meaningful way, rendering this key narrative arc dramatically inert in the process. And whatever tension generated in the film's first half, with the initial catastrophe giving rise to palpable panic and fear in other parts of the rail network, fails to be sustained over the film's overlong 132 minute running time.
Which in other words means that Metro is more or less successful in embodying many of the strengths and flaws of the US disaster films that it wishes to emulate, with almost every other filmmaking consideration taking a back seat to the delivery of pure, meaningless spectacle.
Metro is screening as part of the 2013 Russian Resurrection Film Festival. For session times and further info, visit the RRFF website.

Teaser METRO v02 TV H264 from Russian Resurrection on Vimeo.