Given the superlative title of Chris Wedge's Epic, it would be apt for one to call it the ultimate kids film. That isn't to say that Epic is necessarily better than any of the other winter holiday options going around; rather, it often feels like a greatest hits package of recent children's films.
In many ways, Epic is the reincarnation of a number of family classics. The story follows M.K. (Amanda Seyfried) – a girl who accidentally shrinks to the size of an insect, much like the characters of Honey I Shrunk the Kids. As though she were in that 1989 film, M.K. finds herself at the bottom of the forest alongside a colony of leaf-people, who come alive much like the plates and cutlery in Beauty and the Beast. When it becomes evident that M.K. needs the light of the full moon and a textbook set of circumstances to regain her height, one can be excused for thinking they are re-watching Shrek.
For audiences over the age of eight, the early fairytale-like sequences – which see plants mutate into anthropomorphic personalities – may come across as a little childish. However, once audiences have accepted that Epic is full of fantastical elements and that the magic is here to stay, the film is actually quite enjoyable. Indeed, the creative way in which Wedge transforms the forest into a black-and-white community of amiable heroes and pure-evil villains is captivating cinema, especially in 3D.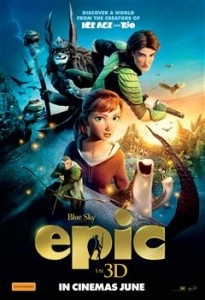 Taking a leaf out of the books of its predecessors, Epic has all the archetype ingredients for a family movie. Father-daughter crisis; check. A pet dog; check. Characters with convenient superpowers; check. A mild love story; check. Add to this a regular dose of slapstick humour – courtesy of Timon and Pumba wannabes Grub (Chris O'Dowd) and Mub (Aziz Ansari) – and you've got yourself a film certain to appeal to its demographic.
Given this, the film's level of violence and dark themes comes across as a surprise. Unlike many politically-correct children's films, Epic isn't afraid to show death. Indeed, in the film's opening scene we see a "bad guy" literally get splattered – a scene which may disturb children, especially those in the 3D screening.
On that note, it's surprising to see the film's bad guys so bereft of any kind of morality. There are no redeeming features to Mandrake (Christopher Waltz) and his army of terrorisers; their scenes are unequivocally dark, often lacking in humour.
As such, Epic has enough fairytale magic and comic violence to appease the girls and boys. More than that, it has enough references to films of old to remind young adults and parents alike of a golden era of kids flicks.
Epic is in Australian cinemas from 27 June through 20th Century Fox.