The search for elusive cures to genetic disorders and illnesses is one that will only become more intensive as biotechnological advancements continue to be made. Errors of the Human Body, directed by Eron Sheean and written by Sheean and Shane Danielsen, gives us a glimpse into this world. To paraphrase one of the more eccentric scientists in the film, 'everybody wants a cure but nobody wants to know what needed to be done to get there'. In Errors of the Human Body the search for these cures is driven by a dangerous combination of longing, vaulting ambition and personal grief, revealing an ethically questionable underbelly beneath the clinical surface.
Geoff (Michael Eklund), a brilliant and world-renowned scientist, has taken up a research post in Dresden, Germany, to work on a cure for the rare genetic mutation that claimed his son soon after birth. Unable to move on and emotionally burdened by the grief, Geoff also desperately tries to reconnect with his ex-wife. At the research institute is Rebekka (Karoline Herfurth), one of Geoff's former interns and flames, and Jarek (Tómas Lemarquis), a dubious researcher with a hidden agenda. After a breakthrough is made that may enable enhanced regenerative capabilities to be accessed in humans, ulterior motives and distrust lead to unpredictable, terrifying consequences.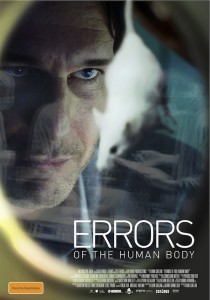 The film is crisply shot with a sombre colour palette, creating an eerie mood which pervades throughout. The disquieting musical score further adds to this foreboding atmosphere. However, the film, far from being invoking an emotional detachment with this grey-tinged surface, contains strong, engaging performances throughout. Herfurth and Lemarquis are both compelling, but it is Eklund who provides the necessary emotional core. His anguish is rendered all the more powerful juxtaposed with flashbacks of happier times, and lends the film an emotional urgency which beckons for our sympathy.
Errors of the Human Body is a well-executed, frightening insight into the potential for genetic experimentation to go awry. Importantly though, the film suggests that whilst the human body contains in-built errors in the form of mutations, it is other human errors that can worsen these situations beyond what was thought possible. The potential for biotechnological progress to cure the most pressing illnesses is limitless, but there needs to be scrupulous vigilance over these activities.
Errors of the Human Body is in Australian cinemas from 20 June through Curious Distribution.