Prequels are a tricky thing; franchises can churn out the impressive feats of The Godfather Part II as films that live up to (and surpass) the hype of the original film. On the other hand, a film-going audience can be dealt the concerning efforts of Dumb and Dumberer: When Harry Met Lloyd or Wolverine. Suffice to say, anything can happen.
Thankfully, Monsters University belongs to the former group, proving to be as endearing, intelligent and funny as the 2001 original feature Monsters Inc. As the first prequel in the Disney/Pixar production line, Monsters University goes back to the college days (quelle surprise!) of monsters Mike Wazowski (voiced by Billy Crystal) and James P. Sullivan/Sulley (John Goodman).
Initially positioned as adversaries, the two come together via an accident that angers the University Dean Hardscrabble (Helen Mirren). A wager is placed between Mike, Sulley and the Dean. If the two students win, they can remain Scare majors. If they lose, they are expelled. To enter the tournament, Mike and Sully start a new fraternity along with some unlikely cohorts (aka the inevitable new characters) and endure six testing challenges.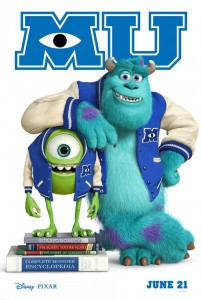 Director/co-screenwriter Dan Scanlon includes the necessary elements to make the film a success: site gags, witty dialogue, an emotional core, and a creative universe in which it all occurs. Of course, part of the creativeness has already been achieved from its predecessor in the existence of Monstropolis and the function of screams as fuel. Scanlon and fellow screenwriters Robert L. Baird and Daniel Gerson most notably build upon this with some additional sorority humour, giving the older generations a familiar 80s/90s college films vibe, (sans the sexual humour of course!)
There is one discernable weak link, however, involving the character of Dean Hardscrabble. Her authority displays extreme power in her ability to expel, but an absence of malevolence is impactful. Sparing an audience from a tired battle between good and evil is not necessarily the worst thing, but the lack of a holistic threat places her among the weaker of Disney/Pixar villains.
University's emotional bedrock concentrates on identity and the ostracism that occurs from difference. Mike is an outsider and it is this story that is the film's constant. Though scenes of rejection and ridicule pack less of an emotional punch compared to the weapy Sulley-Boo storyline in Monsters Inc., the theme is as strong in its importance and universality. Differences are ultimately celebrated as strengths, friendship can change lives, and unity leads to successful achievement.
Monsters University is the kind of film you want the younger generations to consume. It's smart and witty, and reunites the agreeable voice work of Billy Crystal and John Goodman. Randy Newman is back too with a score that summons up the familiar feelings of grand American fortitude, most similarly emphasised through his work in Pleasantville and Toy Story.
Regardless of whether you're a fan of the original film, or you're looking to distract the kids for a couple of hours, Monsters University will entertain and delight.
Monsters University is in Australian cinemas from 20 June through Disney.