Neckbone (Jacob Lofland) and Ellis (Tye Sheridan) are best mates living on the banks of the Mississippi River, fishing, adventuring and getting up to mischief. Neckbone has found a boat in a tree on a small island down the river, and when he takes Ellis to see it they realize someone has been living in it. Enter Mud (Matthew McConaughey), a mysterious former local who is lying low living in the boat while he waits to rendezvous with his girlfriend (Reese Witherspoon). Ellis likes the way he talks about how much he loves his girl and decides to help him in any way he can, bringing him food and forming a bond with him as his own life seems to crumble around him, and that's when his troubles really begin.
Mud is not just waiting for his girlfriend, he is on the run. A romantic at heart, he fills his life with fantastic stories about his endeavors and the people around him, and Ellis falls for the purity, and the danger. Writer/director Jeff Nichols'  Mud is full of wonderful performances from Lofland and Sheridan, as well as the more seasoned cast members; McConaughey is wonderfully innocent yet surprisingly sinister and Nichols regular Michael Shannon puts aside his usual menace and has a star turn as Neckbone's wacky uncle.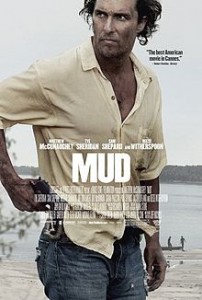 On the surface the film is about a man on the run and the shady gangsters on his tale, but more intimately the film is about the purity of childhood love, the crushing realization that growing up sucks and the faith we put those we look up to. Engaging and sweet despite its overwhelming length (coming in just over 2 hours, which is a long time for a single viewing of McConaughey), Mud is a star turn in the great man's career; moving on from soppy romance films and flimsy comedies, McConaughey is surprisingly charming and effectively and innocently in love, and is extremely effective in his latest roles, such as the creepy murderer in Killer Joe  and the flamboyant nightclub owner/stripper in Magic Mike. But the real stars are Lofland, and Sheridan (formerly seen in The Tree of Life), they put so much emotion into their performances and are so adorably effective on their adventures around town, saving damsel's in distress, selling fish, finding materials to fix the tree boat and scuba diving for pearls, it's enough to make any kid want to move into a life boat and have adventures.
Mud is in Australian cinemas from 13 June through Roadshow Films.