I, Anna is a highly stylized modern noir that unfolds as a character drama against the backdrop of cold, dreary London. Despite the committed performance of its leading lady, Charlotte Rampling, and the clearly passionate direction of her real-life son Barnaby Southcombe, the film ultimately falls short of what it's trying to achieve.
Anna Welles (Rampling) is a lonely, divorced, middle aged woman who goes to singles events in the hopes of meeting a partner. At one of these events she meets George Stone (Ralph Brown), who appears confident and charming but with something dark hiding under the surface, and she finds herself back at this apartment. The film flashes forward to the next day when insomniac police chief Bernie (Gabriel Byrne) is called to George's apartment after his neighbor has found him brutally murdered. He shares a moment with Anna, in which he becomes instantly drawn to her – unaware of her connection to the victim – and starts following her, eventually courting her at another singles event. Gradually his investigation of the murder and his relationship to Anna become inseparably linked and he must choose his allegiance to one or the other. Being a thriller though, things may not be as they initially seem, and, just maybe, there might be a twist ending that changes the audiences understanding of everything that's come before it.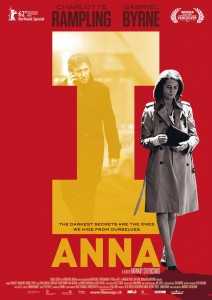 Director Southcombe shows some promise as a filmmaker, if only he could exercise some more restraint in his flashy visuals (especially a constant switching to black and white – sure it's supposed to be symbolic but it's also annoying), even if they are necessary to enliven the somewhat dull story and uninteresting characters of his own script (based on Elsa Lewin's novel).  Despite some shortcomings, the film is mostly well-handled and has the good sense to keeps it running time under an hour and a half.
In terms of performances, Charlotte Rampling, one of the great and underappreciated actresses over her generation, gives a brave and nuanced performance as the titular character, salvaging a good deal of the film. Gabriel Byrne, who has been so excellent in a good deal of other films, is so low key here he effectively sleepwalks through his role, which despite being intentional, becomes frustrating after a few scenes.
Although it showcases some talent from Southcombe as a director and a good performance from Rampling, I, Anna is a mostly mediocre film, but might find some interest in the less demanding of viewers.
I, Anna is available on DVD from 1 May through Transmission Films.