Adapted from the award-winning novel of the same name, Farewell, My Queen was originally penned in 2002 by revered French author Chantal Thomas and opened last year's Berlin International Film Festival.
A beautifully staged period film, Farewell, My Queen fictionalises the final days of the French monarchy.  The opulence and superfluous ceremony that is usually characterised in films about Louis the XVI and his infamous bride Marie Antoinette – seen in Sofia Coppola's Marie Antoinette and parodied in the series Let Them Eat Cake – is instead put aside in favour of an almost behind-the-scenes account of the pending 1789 revolution.
As panic spreads throughout the decadent halls of Versailles, the best laid plans of king and queen are supplemented for the account of the queen's personal reader Sidonie Laborde (Léa Seydoux).  A loyal subject of Antoinette (Diane Kruger), Sidonie dutifully stands by her mistress, as word of her wanted execution reaches the palace's walls.  By following Sidonie, the narrative detours Versailles' meticulously kept grounds and its occupying aristocracy, and instead leads the camera on a tour through the kitchens, back halls and servants' quarters that give the palace function and life.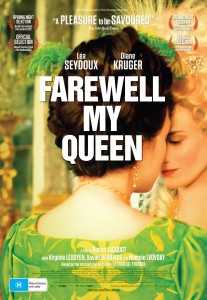 Keenly directed by Benoît Jacquot, the film manages to the capture the fear and opportunistic behaviour that overran Versailles in its final days. Jacquot contrasts the pampered Antoinette, whose feet are often suspended in bed or gilded sofas, beautifully composed in picturesque, slow moving wide frames, against the hectic, hand-held camera movements that occur as Sidonie interacts with the dutiful, if not ignorant, servants of the monarchy and unscrupulous subjects who seem to steal what they can from the sinking ship of the aristocracy.
As you might imagine, the costume and set design of the film are exquisite.  Jacquot shot the majority of the film in the grounds of Versailles, and the final product for the location nothing short of stunning. The pseudo-documentary style of the film breathes life into France's most famous palace, making it difficult to imagine that its gilded rooms are not currently occupied by royalty.
The pace and first person technique of the film does become somewhat lethargic by the end of the picture, but the stunning scenery of Versailles, deft filmmaking and admirable performances of Kruger and Seydoux make Farewell, My Queen engaging viewing.
Farewell, My Queen is in Australian cinemas from 6 June through Transmission Films.