Inspired by real life events, 1 Mile Above is the story of a young man's journey to Tibet to honour his older brother's memory – on a bicycle. Directed byJiayi Du, and adapted from a book by Chang Chia-Lu and Cheng Hsiao-Che, the film is quietly absorbing and beautifully shot, and suggests that with enough motivation we harbour resilience and tenacity beyond what we thought possible.
The film opens with a funeral. Shuhao's (Bryan Chang) older brother, a bike riding enthusiast, has passed away. Instead of placing his brother's travel diary in his casket to be buried with its owner, Shuhao uses the book as inspiration to follow his brother's path and fulfil his ultimate dream of riding to Lhasa, Tibet. He has had no experience with long-distance bicycle rides, and he is definitely not equipped to handle the high altitudes, and low oxygen levels, that characterize the road ahead. However, he is equipped with a quiet determination and an open mind, qualities which allow him persevere on his long and strenuous journey.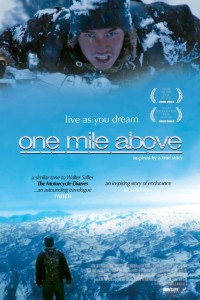 Along the way he meets several generous people, including Xiaochuan (Li Xiaochuan), who is headed in the same direction and becomes a trusted friend and kindred spirit, and a single mother and her young son, the latter with whom he forges a playful connection with. A few more flashbacks could have been provided to illustrate the depth of his relationship with his older brother, but overall Chang is convincing as the reserved, emotional centre of the film. Additionally, the cinematography beautifully portrays Tibet's mountainous countryside as majestic and alluring, somehow inspiring and ominous at the same time, and is accompanied by a sweeping musical score.
Overall, the film does not attempt to be innovative or break new cinematic ground. However, it does not need to, and in the end this inspiring story of a young man's rousing personal journey is all the more engrossing because of its basis on real events. Ultimately, the film suggests that we can challenge ourselves and grow if we make an effort to take adventurous risks, be receptive to new people and places and see the world with an open, curious mind.
One Mile Above is in Australian cinemas from May 30 through China Lion Films.