There have been numerous films exploring the various impacts reverberating from the 9/11 terrorist attacks, but The Reluctant Fundamentalist, directed by Mira Nair, adopts a different, more internally-driven perspective. Based on the novel of the same name, with a screenplay written by Mohsin Hamid, Ami Boghani and William Wheeler, the film focusses on one man's attempt to grapple with his cultural identity in a post-9/11 world.
The film opens with an American professor being abducted in Lahore, Pakistan. The race to find him is the backdrop for an interview conducted by Bobby (Liev Schreiber), a journalist harbouring more clandestine motives, with Changez (Riz Ahmed), a university professor whom he suspects as having knowledge of the abduction. However, Changez insists that he tell his story in its entirety. Raised in Pakistan, Changez moves to America to obtain his education and eventually working in a prominent New York corporate firm as a protégé to Jim (Kiefer Sutherland). He also meets Erica (Kate Hudson), an artistic, free-spirited woman, and the two begin a passionate, though strained, relationship.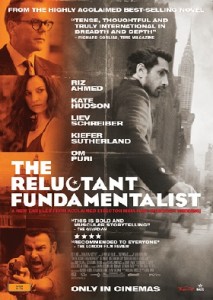 Following the 9/11 terrorist attacks, Changez is exposed and subjected to a heightened and previously unexperienced xenophobia. He begins to re-evaluate his proclaimed 'love for America' and his broader cultural identity. As the conversation between Bobby and Changez builds momentum and tension, Nair is adept at prolonging the ambiguity surrounding Changez' allegiances, and this propels the narrative forward.
The performances are fine throughout. Hudson is charismatic as a woman hampered by a past relationship, and Sutherland effectively plays a candid corporate mentor. However, it is Ahmed's performance that elevates the film. He manages to imbue Changez' ambivalence and struggle to reconcile different strands of thought with a progressively strained demeanour in the flashbacks, whilst being subtle and composed in his conversation with Bobby.
Where The Reluctant Fundamentalist is not as successful is in investing the search for the abducted professor with as much tension and suspense as the gradual unpacking of Changez' past. Instead, the 'thrills' are to be had in watching the conversation progress. In this respect, the film is less successful as a political thriller and more devoted to exploring ideas about the adequacy of fundamentalist philosophies and the difficulties in reconciling different cultural influences into a tenable political, and personal, position. Ultimately, this film is compelling because it is a richly engaging character study set amidst the chaos of a post-9/11 world.
The Reluctant Fundamentalist is in Australian cinemas from 23 May through Rialto Distribution.