It's been four years since director Todd Phillips (Old School, Due Date) introduced us to the now infamous Wolfpack. Phil (Bradley Cooper), Stu (Ed Helms), Alan (Zach Galifianakis) and Doug (Justin Bartha) had the world's worst hangover after getting wasted and finding themselves in countless ridiculous situations they wish they hadn't. The 2011 sequel saw audiences yet again relishing in watching these four slowly remember and rehash what they got up to the night before.
Alan's father dies suddenly and after coming together for his funeral, everyone decides his behaviour has become increasingly erratic and an intervention is staged. On the way to the rehabilitation facility their car is intercepted by a group led by Marshall (John Goodman), a man very pissed off with Chow (Ken Jeong). Marshall claims the Wolfpack are the key to finding him and takes Doug hostage until he is delivered. Game on.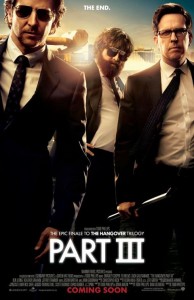 The Hangover Part III sings a bit of a different tune to the two films that came before it – there's no big night out, no drugs, no booze and no hangover to deal with. This is a heist film with the same goofy, everything goes wrong, chaotic flavour we've seen before.
One would hope the much loved franchise still had some original twists and turns, but despite a few funny moments, there's nothing new here. The actors, as always, have great chemistry, but this time around it takes a good while for this to really feel like a Hangover film.
Alan's character is way too exaggerated and becomes boring in the first few scenes, after an opening featuring the accidental decapitation of a giraffe he bought, wreaking havoc on a freeway. The real focus of The Hangover Part III is Chow, with the Wolfpack taking a secondary position. While this humour might not be for everyone, Jeogh plays the part really well and will get a smile out of you one way or another.
Make sure you stick around after the credits for the trademark Hangover bonus scene that is arguably the film's funniest moment.
The Hangover: Part III is in Australian cinemas from 23 May through Roadshow Films.