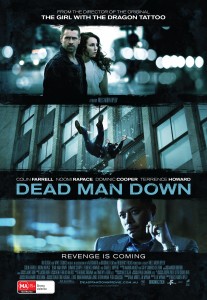 Dead Man Down marks the English-language directorial debut of Niels Arden Oplev, who is perhaps best known for helming the original cinematic adaptation of the The Girl With The Dragon Tattoo. Given the success of that film, it is not surprising that the Danish director has since found himself overseeing an American crime thriller, which sees him working once again with Dragon Tattoo actress Noomi Rapace.
Rapace plays Beatrice, a troubled young woman physically and emotionally scarred from a car accident, who attempts to blackmail a low level gangster (Colin Farrell) into extracting revenge on the judge who inflicted her injuries. If that wasn't enough, Farrell's stern and reticent perp is himself associated with a criminal organisation on the hunt for an individual who is carrying out a preposterously detailed quest for vengeance against the group.
The slow intertwining of these narrative threads unfortunately gifts the audience with a particularly unfocused and muddled film. Dead Man Down seemingly wants to present itself as possessing a complex story with in-depth characters. But these aspirations are often undermined by a tendency to devolve into mindless scenes of excessive violence, not to mention its awkward depiction of the evolving relationship between Farrell's and Rapace's characters.
Matters are not helped by by a poor audio mix, which when combined with brusque performances from many of the film's male actors, renders vital expository dialogue close to unintelligible. By the time the key plot twists are eventually spelled out, you'll more likely be relieved as opposed to hanging on the edge of your seat.
The casting of Isabelle Huppert as Beatrice's hearing impaired mother is one of a few early left field touches which suggests are a far more interesting film than the one which eventuates. For all of the frantic energy expended in outlying its many plot contrivances, viewers are left with little more than an unremarkable and lackluster genre effort.
Dead Man Down is in Australian cinemas from 23 May through Sony Pictures.