I'm the first to admit a somewhat guilty love of a blockbuster action thriller with predictable plot twists and minimally developed character profiles. Honestly, the more corny the premise, the cheesier the lines, the faster the cars go, the bigger the explosions are, the better. And better yet, if a character is doing something that you would never do in a million years, like go looking for a bad guy themselves instead of calling the police they know are no more than 10 minutes away, the better, and I'm the first to judge such a film on these merits. But The Call is nothing like that, to its credit.
The premise is simple: Jordan (Halle Berry) is a veteran 911 call operator who has suffered emotionally on the job after a call she was on lead to the kidnapping and brutal murder of a young girl. Now she is on training detailing until a newbie struggles with a 911 call from a distressed Casey (Abigail Breslin) who is in the trunk of a mans car. Jordan jumps on the line and, determined not to fail this time, does all she can to help Casey help herself. A word of warning for anyone who might find themselves in a shopping centre car park alone; have two phones on you and make sure the hidden one is not a disposable. The drama of the film comes from the law enforcement teams inability to locate the car due to a lack of GPS response from Casey's phone.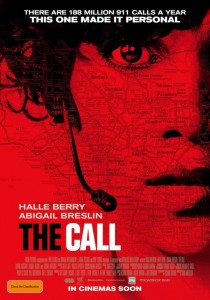 This film elicited physical reactions in my chest that I haven't experienced since I saw The Hunger Games  for the first time having not read any of the books. My heart was thumping despite myself, for director Brad Anderson has masterfully woven a situation not only plausible, but also a little close to home in light of the recent, senseless, random murder of Jill Meagher on our very city streets.
The Call pulls out all the stops from creepy killer taglines "it's already done", to we-got-him-wait-no-we-don't moments galore. My only beef with this film is the unrealistic, almost grindhouse conclusion to the film, conjuring memories of the final moments of Death Proof rather than the neatly wrapped up outings of Andersons previous work such as The Machinist.
A good night out for an adrenalin seeking movie-goer, but by no means a genre changing turn.
The Call is in Australian cinemas from 16 May through Roadshow Films.