I think everyone who saw The Scorpion King way back in 2002 was a little surprised that The Rock didn't get himself an Oscar nomination. Of course, it may have been because the judges didn't know what his actual name was at the time or perhaps they just didn't appreciate the cheesiness. These days, he is more commonly known as Dwayne Johnson and this time he's playing it serious.
In Snitch, Johnson plays construction company owner, John Matthews, whose estranged son, Jason (Ravi Gavron), has been arrested for intent to distribute narcotics. A minimum ten-year sentence for narcotics distribution can be lessened for those who snitch on drug world connections, but Jason has been set up and he doesn't feel comfortable setting anyone up for the sake of his own freedom.
Desperate to ensure his son's release, John seeks the help of district attorney, Joanne Keeghan (Susan Sarandon), and proposes to go undercover to expose a major drug cartel in exchange for his son's release. However, this involves implicating an ex-con, Daniel (Jon Bernthal), whose life is just getting back on track with a new job at John's construction company. It is a risky move which will place them and potentially their families right in the centre of a bloody drugs war.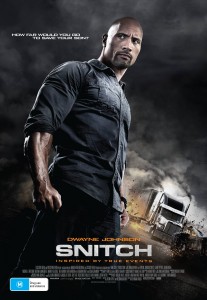 Snitch has been marketed as an action-packed thrill ride but viewers might be surprised at the relative sparseness of explosions and corpses. Apparently based on true events, director Ric Roman Waugh and  co-writer Justin Haythe (Revolutionary Road) provide a serious-minded screenplay with enough legal and character detail to distinguish this from your average shoot 'em up cop procedural.
They have squarely pointed the finger at the exorbitant penalties for first time drug offences, which in some cases are said to outlast rape or murder sentences. We see the results of prison brutality on Jason's face in glimpses and the disproportionate toll a stupid mistake can make on a naive young kid but this message inevitably gets a bit lost with the undercover operation taking centre stage.
Johnson does eventually become the Action Man promised by the poster, but his performance mostly is considered, emotive and probably the best of his career. Bernthal is solid in support while Barry Pepper and Michael Kenneth Williams are impressive as cop and drug lord respectively. And then there is Susan Sarandon who once again plays Susan Sarandon. But what can I say; she does it well.
This isn't the adrenaline-fuelled blockbuster people might expect from The Rock but that bit more investment in characters over bullets makes this a satisfying and tense ride. I just wish they'd get rid of that bloody shaky camera.
Snitch is in Australian cinemas from May 16 through Hoyts Distribution Australia