Filming contemporary films in black and white, and without dialogue, can invoke feelings of nostalgia for a bygone era. Or, alternatively, they can be alienating. Tabu, a Portuguese film directed by Miguel Gomes and written by Gomes and Mariana Ricardo, takes that risk, with mixed results. Divided into two main sections, the film focusses on a woman at two stages in her life – the first chronicling the end of her life, and the second narrating a passionate love affair she had whilst living in colonialist Africa in her youth.
The main narrative opens with Pilar (Teresa Madruga), a quiet, compassionate woman living next door to Aurora (Laura Soveral), an elderly woman whose memory is beginning to deteriorate, and her housemaid, Santa (Isabel Muñoz Cardoso). Aurora is often confused, with a penchant for gambling and paranoia, and Pilar is genuinely concerned for her welfare. This first chapter is meandering and languid, and whilst the insights provided into these characters' lives are touching and resonant, the slow pacing suppresses a clear sense of direction from emerging. Consequently, the themes of isolation and loneliness which characterize this first chapter are prevented from being fully-realised and powerful underlying currents, and instead they become lost in the lethargy.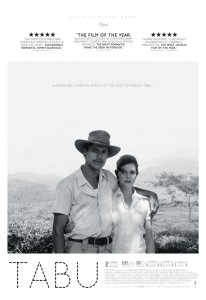 An encounter with Ventura (Henrique Espírito Santo), Aurora's former lover, allows the film to segue into its second chapter, in which Ventura narrates and reminisces about their love affair in a Portuguese colony in Africa. Young, married Aurora (Ana Moreira) embarks on an affair with young Ventura (Carloto Cotta), and despite knowing their relationship is doomed, they persist in their secrecy, with dire consequences. In addition to being filmed in black-and-white, this section is also largely devoid of direct spoken dialogue between characters. The cinematography is beautifully shot, and an atmosphere of nostalgia is successful invoked.
However, despite having a narrower focus than the first chapter, this section does not fully recover from the film's slow start. The lengthy unfolding of their relationship seems to dilute their longing and passion, counteracting a momentum from building towards the film's climax.
Ultimately, Tabu's slow start establishes a slow pacing which undermines its other elements, and makes the film less engaging in the process.
Tabu is in Australian cinemas from 16 May through Palace Films.