11-year-old Skunk (Eloise Laurence) witnesses a senseless, brutal attack on one of her neighbours which kickstarts series of events that change the lives of three middle-class families forever.
Skunk lives in a court in North England with her father Archie (Tim Roth), brother Jed (Bill Milner) and the family's Polish au pair Kasia (Zana Marjanovic). Her mother left a while back and while this impacted Skunk significantly, the close bond she shares with Archie keeps her bright and bubbly. Mike (Cillian Murphy), Kasia's on again, off again boyfriend and Skunk's English teacher is never far away, his presence one of the most powerful in the film.
The relationships of her neighbours are extremely volatile, mainly due to the Oswald family; father Bob (Rory Kinnear) and his three obnoxious teenage girls who are spoilt rotten and constantly overprotected since the death of their mother. The Buckley family, especially their handicapped son Rick, (Robert Emms) are constantly taunted by the Oswald girls, leading to the senseless attack previously mentioned.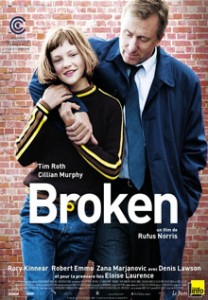 To give away the plot would be a great disservice to the film and the emotions it evokes, as Broken simply flies by with viewers transfixed to the events shown before them. Adapting the Daniel Clay novel, first time director Rufus Norris deals with extremely raw and confronting material. The non-linear script with intense flashback sequences ensures the audience are kept on their feet for the film's entirety.
Innocent but very wise, perky yet vulnerable, Laurence absolutely steals the show, her enchanting performance leaving a lasting impact. Charismatic and with great comic timing she provides constant entertainment throughout what is otherwise a fairly grim tale. This is only her first performance however there is no doubt that audiences will be seeing a lot more of her charm in the future.
Dysfunctionality is the main factor tying these families together, showing every action comes with a consequence. Here there are many questions, but not a lot of answers. What is broken can be repaired, but won't ever be quite the same.
Broken is in Australian cinemas from 16 May through Curious Distribution.