Spring. Break. In many an American college film these two words, taken together, have become synonymous with beaches, binge drinking and gleeful debauchery. And that's just the opening scene of Spring Breakers, written and directed by Harmony Korine. The film chronicles four college students as they indulge in the alcohol-driven, drug-induced highs of spring break, but also critiques contemporary youth with its fusion of recklessness and hedonism.
Candy (Vanessa Hudgens), Brit (Ashley Benson), Cotty (Rachel Korine) and Faith (Selena Gomez) are childhood friends. Restless and bored at university, they yearn to join in the youthful revelry of spring break. Not having enough money for the trip, Candy, Brit and Cotty rob a local restaurant, and Faith, despite being devoutly religious, suppresses her moral objections and joins them on the trip. They treat their escapade as a separate reality, a chance to purge themselves of the ennui of college life and even 'find themselves'.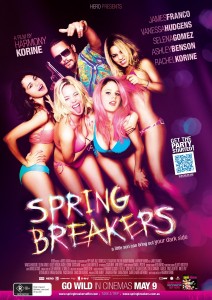 After a particularly wild party, the quartet is arrested. Alien (James Franco), a gangster and drug dealer with a penchant for collecting weapons, appears on the scene to bail them out. However, his questionable motives make Faith anxious and uncomfortable, and she decides to leave. Thereafter, the remaining trio are lured in by Alien's lifestyle, and they indulge themselves further and further in criminal behaviour. The initial robbery serves as the catalyst to reveal which boundaries they are willing to transgress in the new reality they have created for themselves.
Performances are strong all-round, and if Selena Gomez and Vanessa Hudgens were intending to use this film to transition to more mature roles they surely succeeded. But it is James Franco's committed performance that stands out from the pack. He receives the most laughs for his transformation, which includes a rendition of Britney Spears' 'Everytime' sung at a white, poolside piano. The film also benefits from a layered visual stylishness befitting the exploits of spring break. The editing, voiceovers and bright colour schemes combine to create surreal, dreamy sequences, invoking an atmosphere of fleetingness and superficiality.
Spring Breakers deftly blends stylistic direction with critical, and at times comic, insights into excessive youthful gratification. As the movie progresses the film becomes increasingly implausible, but it remains engaging because of its ability to undermine expectations.
Spring Breakers is in Australian cinemas from May 9 through Icon Films.