Decisions, the possibility of unforeseen, and devastating consequences resonating long after they are made, are the focus of director Derek Cianfrance's new film The Place Beyond the Pines, written by Cianfrance, Ben Coccio and Darius Marder. Quietly ambitious in scope, the characters grapple with the impacts of moral indiscretions, lingering regrets and paternal legacies.
The film opens with Ryan Gosling, who plays 'Handsome Luke', a motorcycle stuntman who travels around with a fair. A wanderer, his life irrevocably changes when he reunites with Romina (Eva Mendes), a former romantic flame. Upon discovering that she has been raising his son without his knowledge, he commits to settling down to provide for his family, a resolve which leads to banking robbing. His luck, however, eventually runs out, and he crosses paths with police officer Avery Cross (Bradley Cooper). Divided into three parts, the film explores the decisions leading to their fateful encounter and the consequences which reverberate thereafter, including the impacts felt by Luke's and Avery's sons, played by Dane DeHaan and Emory Cohen, respectively.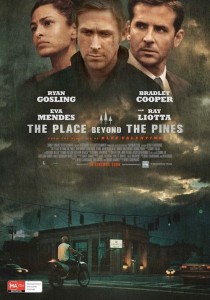 Cianfrance displays a knack for effectively creating authentic places whilst exploring universal themes, and the haunting, wistful musical score contributes to creating a pensive mood. The performances are also convincingly executed. In his determination to become more involved in his son's life Gosling again proves himself a commanding onscreen presence; his performance alternates between effortless charisma and desperate intensity. Cooper puts in his most subtle performance to date, displaying diverse shades of remorse and ambition. And Mendes and DeHaan are both emotionally compelling – Mendes, unassuming as a mother trying to raise a family in difficult circumstances, and DeHaan, struggling to cope with identity issues inherited from his father.
However, the three chapters which comprise the film appear to differ in their intensities. The opening chapter is the most engaging in its brooding desperation, but instead of building momentum the final chapter of the film is characterized by a diluted emotional potency. This compromises the film's overall success in creating a cumulative emotional impact. The three parts taken together, whilst related through narrative,  thus render the film less effective as a whole. Ultimately, The Place Beyond the Pines contains compelling performances and intertwined storylines, but it does not completely succeed in realizing its ambitions.
The Place Beyond the Pines is in Australian cinemas from 9 May through Roadshow Films.