Life on the Eastern side of the Berlin Wall, under the ever watchful eye of the Statsi, has proved to be a rich source of material for modern German filmmakers. Films such as Good Bye Lenin!, The Lives of Others, and the recently released Barbara have been successful with both German and international audiences in their respective takes on this era.
Crucially, a large part of their appeal lies in their willingness to focus on intensely personal stories taking place against a wider backdrop of paranoia, danger and occasional absurdity. Writer/director Toke Constantin Hebbein adopts a similar approach with his latest feature Shores of Hope, with mixed results.
Opening with Conny (Alexander Fehling) and Andi (August Diehl) attempting to acquire work as East German seaman, the life-long friends quickly learn that their high risk status for defection as unmarried orphans will restrict them to working on the docks.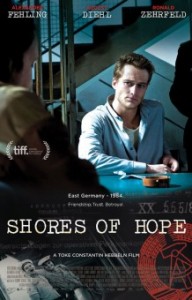 They learn that their supervisor Schonherr (Ronald Zehrfeld) is quietly planning to smuggling his family out West, and subsequently plan to betray him in exchange for obtaining their dream jobs. This irrevocably alters the course of both friends' lives, with each experiencing radically different outcomes from their respective decisions.
The film is well constructed and slickly shot by Hebbein. The performers he has at his disposal are some of the best working in Germany today, and they arguably do a lot of the heavy lifting to make Shores of Hope a more palatable viewing experience than it would otherwise be. But the film's pacing, or the lack thereof, proves to be its downfall. We are barely introduced to the protagonists and their situation before rushing into a series of cascading plot developments, with characters failing to develop from the broad archetypes established at the outset.
As impressive and subtle as it's closing scenes may be, it doesn't quite reach the level of emotional resonance that the filmmakers are clearly striving for. When compared to its thematic predecessors, the film is a solid but minor entry in the canon of films about the GDR.
Shores of Hope is playing in the 2013 Audi German Film Festival. Screening details can be found here.