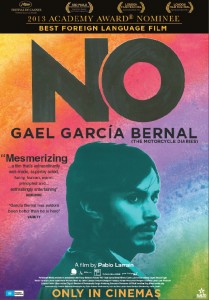 Courtesy of Rialto Distribution, Film Blerg is giving away 5 double passes to  see the new film NO starring Gael Garcia Bernal, out in cinemas from Thursday 18 April.
Film Synopsis: In 1988, Chilean military dictator Augusto Pinochet, due to international pressure, is forced to call a plebiscite on his presidency.  The country will vote 'Yes' or 'No' to Pinochet extending his rule for another eight years. Opposition leaders for the 'No' vote persuade a brash young advertising executive, Rene Saavedra, to spearhead their campaign.  Against all odds, with scant resources and while under scrutiny by the despot's minions, Saavedra and his team devise an audacious plan to win the election and set Chile free.
Directed by Pablo Larrain (best known for his acclaimed film, Tony Manero) the Chilean movie is set during Augusto Pinochet's regime and delves into the life of advertising executive René Saavedra (Gael Garcia Bernal), who through a clever campaign is able to dethrone the dictator and his government.  It's a smart, involving and potent film that mixes reality and drama to provocative effect; the former by incorporating archival footage and the latter by filming on U-Matic tape to give the film its distinctive vintage aesthetic
How to win:
Visit our Facebook page and hit the "SHARE" button on the NO status.
Write "Win tickets to see new political film NO starring Gael Garcia Bernal" in the write something section.
Send your name and address to giveaways@filmblerg.com with NO in the subject.
Competition opens 9am AEST Tuesday 16st April, 2013 and closes 5pm AEST Sunday 21st April, 2013.
Terms and conditions
Passes are eligible only to Australian residents.
Film Blerg and Rialto Distribution cannot be held accountable for any delay or loss of prizes.
You must follow Film Blerg on Facebook or Twitter to be eligible.
Any information sent remains confidential.