As exciting as Chilean politics might be to some people, it's a subject area most Westerners seldom bother to touch. In No, director Pablo Larraín attempts to re-tell one of the most critical events in Chile's history in a way that will engage mainstream audiences. Fittingly, the No plot follows René Saavedra (Gael Garcia Bernal) – a marketing guru whose goal is to convince a seemingly apathetic nation into becoming politically active.
No takes the audience to 1988 Chile, where a national plebiscite is to decide whether dictator Augusto Pinochet is given another eight years in power. From the outset, those representing the "No" ticket believe the election to be rigged and their democratically-assigned advertising space to be futile. But when the team recruits René, a man who'd prefer to advertise with bright colours and jingles than graphic images, the No ticket begins to find some unlikely ascendency.
As the saying goes, the rest is history. But for the sake of those unfamiliar with the political narrative that follows, the film politely progresses through the narrative without giving away the outcome until the closing scenes.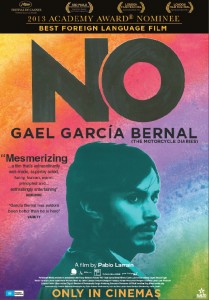 For those interested in the interplay between politics and advertising – a theme that has never been more relevant than it is today – No is a must-see film. The then-radical tactics employed by both René's team and the antagonistic "Yes" ticket hit close to home, given today's day and age of big-budget political campaigns. As the two parties trade insults and ideas, the audience is left to reflect on ads they might have seen lampooned on The Hamster Wheel or Gruen Nation only months earlier.
Larraín makes the bold decision of filming No on tape more suited to the 1980s in order to seamlessly integrate real-life news footage from that era into the final product. Although the effect isn't easy on the eyes (imagine watching a film filtered through Instagram) it achieves its purpose. As such, No has the look and feel of a documentary while maintaining a typical narrative film structure.
Given the strength of the visuals and the storyline, it's a shame that Larraín lets No run about twenty minutes too long. A significant portion of No's running time is wasted on René's personal life. Bernal's strong acting makes these scenes watchable, but this sub-plot nevertheless feels superfluous. Likewise, scenes detailing René's tension with his frequently imprisoned wife Verόnica (Antonia Zegers) seem a tad petty, given the brutal political climate in which the family is living.
No is in Australian cinemas from 18 April through Rialto Distribution.