In case you somehow haven't been paying attention, vampires are kind of a big deal right now. But this is not the cold, irredeemably evil, and occasionally camp vampire of years gone by. Generally speaking, modern vampires have taken the form of sensitive but slightly edgy romantic heroes, the type that feature in the fast expanding subgenre of paranormal romance films, TV shows and books. But could you write a story like Twilight, with the same appeal to girls worldwide, if you changed Edward from a vampire to a zombie?
In a manner of speaking, this is the question that Warm Bodies attempts to address. In director Jonathan Levine's adaptation of the novel of the same name, a recently converted zombie named R (Nicholas Hoult), wanders a post-apocalyptic landscape. R is the narrator of the film, which indicates that zombies in this universe are capable of cognitive thought, even if they can't externally express it. Whilst on a mission for supplies to bring back to a collective of humans who have hidden away from the rest of the world, Julie (Teresa Palmer) find herself rescued from a horde of zombies by none other than R himself. Thus begins an unconventional Romeo and Juliet style romance between the living and the undead.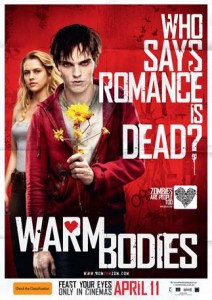 The film's snarky self awareness may be grating at times, but it's a lone highlight amongst an otherwise mediocre film. Hoult's deadpan delivery of R's internal monologue produces some genuinely amusing moments, particularly since it virtually mirrors the thought processes of an awkward teenage loner interacting with the object of their affection. That spark fails to carry over to R's and Julie's romance, which for lack of a better word, remains lifeless. Both Hoult and Palmer are perfectly likable in their respective roles, but it's an uphill battle to create on-screen chemistry when one actor has the handicap of playing a reanimated corpse.
Despite the film being set against the backdrop of a zombie apocalypse, there is little sense of any danger befalling the characters, even when Julie's s military commander father (John Malkovich) becomes aware of their relationship. Additionally, the larger world the characters inhabit is only vaguely depicted and explained, which becomes an issue later on once the focus shifts away from the central romance.
Other than some amusing one-liners, Warm Bodies left this reviewer cold and unsatisfied.
Warm Bodies is in Australian cinemas from 11 April through Icon Films.