"I've decided I don't want to get married until I'm sure nothing else good can happen in my life"
Based on his one-man show of the same name and winner 'Best of NEXT audience Award' at last year's Sundance Film Festival, Sleepwalk with Me is a stylised account of director Mike Birbiglia's early days as a would-be stand-up comedian. The film follow's Birbiglia's deftly crafted pseudonym, Matt Pandamiglio, as he struggles in his stagnant relationship with girlfriend Abby (Lauren Ambrose), kick-starting his an almost non-existent comedy career, dealing with his overbearing parents and a REM sleep disordered which causes Matt to physically act out his dreams.  Matt's concerns are intertwined, his eight-year relationship to Abby has reached an inevitable crossroad: get married or get out, a state akin to his stand-up career, which seems to have no voice and no direction whatsoever.
Matt's life begins to turnaround though when he starts to discuss his motionless status on stage. Suddenly, his light observations are transformed into relatable turns that the audience immediately engages with. The only downfall to Matt's new talent as a storyteller is that Abby is completely oblivious that he's talking about her to hundreds of people.  As Matt juggles between keeping his secret and confessing to Abby his dreams become more and more absurd as they become increasingly dangerous.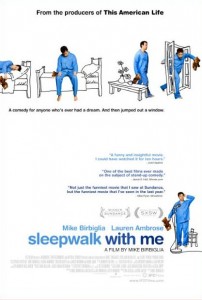 Much like Marc Webb's (500) Days of Summer, Birbiglia's film begins with many of the romantic comedy hallmarks we know and hate (or, let's be honest, secretly love): the beautiful and quirky girlfriend, the exaggerated and eccentric parents and the meek, everyman hero, but where your average Hollywood output would quickly turn towards melodramatic clichés with extra ham and cheese, Birbiglia presents a story that is both candid and entirely relatable.
It's surprising to learn that this is Birbiglia's first film, as the pace and maturity of the picture are far more seasoned than that of a rookie writer/director. The story of Mike and Abby is sweetly honest in its downfall, while the dream sequences are both hilarious and well crafted.  Like the smaller scale films of Woody Allen, the balance between comedy and drama is skilfully toed.  Interestingly, Birbiglia wrote the film with his brother Joe, Seth Barrish and Ira Glass, a combination of cooks that would seem far too large for the kitchen in question, but with Sleepwalk with Me, the writing, like the direction, seems acutely singular.
Like the dialogue, the performances in the film are equally realistic and filled with whimsy. Lauren Ambrose is perfect as the out-of-my league but still endearing girlfriend Abby, while Pandamiglio's parents played by Carol Kane and James Rebhorn excel in what would normally be one-dimensional roles.  Cameos from Flight of the Concords regular Kristen Schaal and John Lutz of 30 Rock fame cause a wry grin during their respective scenes, but it is one intimate moment between Birbiglia and comedian Marc Maron that is by far the most memorable moment in the film.
Sleepwalk with Me is an excellent debut film and must for fans of stand-up and comedy alike.
Sleepwalk with Me is in Australian cinemas from 4 April through Sharmill Films.