Now Is Good, writer/director Ol Parker's follow-up to Imagine Me and You with a script adapted from Jenny Downham's novel, sees grown up Dakota Fanning putting on a British accent and traipsing about the Brighton country side as Tessa, a girl dying of terminal Leukemia who has decided to stop treatment in order to finish a list of things she wants to do before she dies. Her best friend Zoey (Kaya Scodelario) has stopped everything to help her with this list as it includes many activities that are illegal for a 17 year old to do. Principal among them is losing her virginity. But she is trying too hard to finish the list and is in fact missing out on many of the great experiences life has to offer.
Tessa is headstrong and, quite frankly, a pain in the ass, pushing away the one person who could actually help her, her father (Paddy Considine), who just wants to see her enjoy life and be left with some great memories. On this front, the film falls down where My Sister's Keeper stood out, portraying the costs for the whole family and not just the sick daughter. Tessa is disturbingly self-centered, meeting and befriending the boy next door Adam (Jeremy Irvine) who recently lost his father, and using him for her own satisfaction, not even stopping to think how loving and losing someone again, so early in his life, might affect him.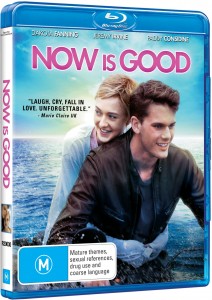 There are many similarities that can be drawn (unfortunate as it may be), between Now Is Good and Gus Van Sant's heart-warming Restless starring Mia Wasikowska as Annabel the dying girl and Henry Hopper as Enoch the boy who loved her. Enoch has experienced the death of both his parents, Adam lost his father. Annabel is full of life and has decided to experience some of it before she goes, Tessa has stopped her treatment and made a list of things to do before she dies. Annabel's sister is hesitant about her relationship with Enoch, Tessa's father doesn't want her seeing Adam. But the similarities stop there.
Enoch has been touched by death and his reaction is to obsess over it, whereas Adam seems unaffected, aside from deferring his place at university, he seems utterly over the recent loss and his main reason for putting his life on hold is his mother, therefore the dynamics of the relationship fall flat and the motivations are murky at best. Also Zoey gets pregnant and disappears for much of the film, which made absolutely no sense.
If you want to see the dying girl, coming of age love story done well then watch Restless, however if you like similarly sappy Dakota Fanning films such as Uptown Girls where she plays an obnoxious brat and doesn't learn a whole lot, or the equally repetitive "I don't want to be sick, but I'm sick, stop treating me like I'm sick, I'm not a sick person" My Sister's Keeper, then perhaps you'll like this.
Now is Good will be released on DVD and BluRay on 3 April through Disney.