Welcome to that well-documented prehistoric world where broad-shouldered cavemen spoke perfect American and where nearly every animal was a 70s-coloured African hybrid. Welcome to the home of the unofficial ancestors of The Incredibles, Kirk De Micco and Chris Sanders' The Croods.
In a dangerous world, Grug (voiced by Nicholas Cage) and his wife, Ugga (Catherine Keener), have raised their children to believe that the cave is the safest place to be. "Never not be afraid" is the resounding message reflected in Grug's bedtime stories which always end up with the main character dying when they discover something new. This rule doesn't seem to bother the baby or the daft son, Thunk (Clark Duke) or Gran (Cloris Leachman).
However in typical teenage fashion, their daughter Eep (Emma Stone) has taken issue with her dad's negativity and is set on exploring the outside world. When she meets another human, Guy (Ryan Reynolds), her curiosity is reinforced. Unfortunately, while this Guy has lots of novel ideas, he is also forecasting the end of the world. It is a laughable notion until it actually happens and the Croods are forced to negotiate a world far larger than they thought.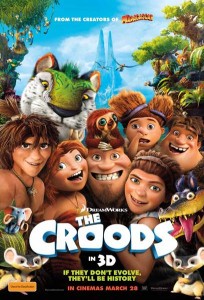 With barely a breath taken between chases, there are a few things which puzzled me during the course of this frantically paced film, such as: how they arrive in a desert only moments after falling into the middle of an impenetrable jungle; how Guy seems to be wearing denim jeans and how Grug and Guy don't writhe in pain when waste-deep in fuming molten tar. Maybe I'm being too harsh. As with anything animated, suspended disbelief is recommended.
In all seriousness, what really elevates this movie is the attention to detail and visual splendour we have come to expect from big budget animation. Every hair, eye-twitch, leaf and breeze has been accounted for in this spectacular 98-minute action reel/nature documentary. Thankfully, the end of the world, effectively captured in 3D, is just slow enough for the dysfunctional family to bicker, stall, reconcile, and run away simultaneously, making time for a substantial amount of slapstick.
Following Eep's familiar teenage dilemma of trying to escape from her parents' clutches, there isn't much new or witty about this collaboration from De Micco and Sanders (as well as writing and directing, Sanders also voices Guy's pet, Belt). At the heart is a noble sentiment and there should be enough visual candy to keep kids happy. However, anyone over twelve will likely come up disappointed, a distinction which sees this fall dramatically short of benchmarks such as The Incredibles, Wall-E and Up.
The Croods is in Australia cinemas from 28 March through 20th Century Fox.