John McClane (Bruce Willis) is still working for the NYPD. While close with his daughter Lucy (Mary Elizabeth Winstead), he is somewhat estranged from his son Jack (Jai Courtney), who is gallivanting around Europe and getting himself into trouble. McClane flies to Moscow to try and bail him out, however he soon discovers Jack is actually a CIA agent protecting a man named Komarov (Sebastian Koch) from some scowling Russians planning to steal nuclear weapons and end the world (or something like that. We've heard this before). Then, to cut out a long-winded plot, John McClane does what John McClane does best, grabs a gun (or ten) and starts fighting bad guys in a seemingly reluctant fashion, never letting us forget he's on "vacation".
Willis and Courtney (Spartacus) work quite well together, the former still quite charming and the latter providing quite possibly the strongest on-screen presence in the film. However the biggest casting question mark lies with Sebastian Koch (The Lives of Others), so unrecognisable you may very well go half the film before realising who he is. A long way from the well known Academy Award winning Cold War drama, he gives a less than convincing performance as Komarov, the man the McClanes are risking their lives for to protect.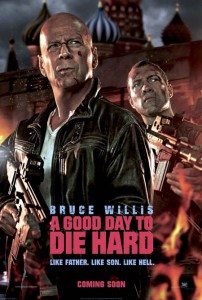 Twenty-five years later and it seems as though McClane is getting better with age, possessing the ability to flip trucks and fall out of buildings without any physical consequence. This film is really pushing its luck in asking its audience to suspend almost all of their disbelief, even the action getting a bit tired towards the end.
The plot is a little convoluted and the script bad at times but we can safely assume the majority of audiences piling into A Good Day To Die Hard aren't going for the well thought out and pieced together story. The most disappointing aspect here is the very questionable camera work, with shaky shots and abrupt panning. It will be quite interesting to see where director John Moore (Max Payne, Behind Enemy Lines) goes from here.
On the surface A Good Day To Die Hard is somewhat entertaining (the title is about the most humourous line in the film), but don't try and dig any deeper. The explosions and chases should keep you occupied, but if you're not a die-hard fan of this strung out series you should probably wait for DVD.
A Good Day to Die Hard is in Australian cinemas from 21 March through 20th Century Fox.