Consider the credentials of this cast: Steve Carell, who helped reinvent The Office, possibly one of the only cross-Atlantic adaptations to be genuinely good; Steve Buscemi, aka Nucky Thompson from Boardwalk Empire; and Jim Carrey, who taught us all how to pronounce "really" with relish  all those years ago in Ace Ventura. All have had their moment in the sun.  How on earth they and director Don Scardino thought this was a good idea eludes me.
Burt Wonderstone and Anton Marvelton (Carell and Buscemi) are Las Vegas magicians who have been friends since primary school. Bullied and beaten, Burt initially impressed Anton with a disappearing handkerchief, a trick he learnt from a magic kit given him for his birthday. From then on a partnership formed and plans ensued.
Decades later, Burt and Anton's show, having ruled the Vegas Strip for years, is getting stale. Their oft-repeated tricks are being shown up by the quite repulsive Steve Gray (Carrey), a so-called street magician who has taken the Vegas strip by storm with his shameless Jackass-esque antics causing them to be sacked by casino boss, Doug (James Gandolfini). After falling out with Anton and into obscurity, Burt, now entertaining at an old folks home, discovers one of the residents (Alan Arkin) to be the star of the magic kit he was inspired by as a child and resolves to rediscover his fascination with magic.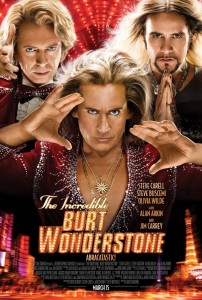 The plot is nothing new as Burt relives memories of childhood bullying and overcomes his demons to rediscover what is most important to him. The occasional joke hits the mark and cameos from Arkin and Gandolfini are refreshing. However, these moments are sporadic and not enough to make this a consistently entertaining two hours.
Writers, Chad Kultgen (story), Tyler Mitchell (story), Jonathan M. Goldstein (story & screenplay) and John Francis Daley (story & screenplay) don't seem to have clicked together with their ideas and you can tell this was pretty quick going from brainstorming session to screen. Rather than a narrative, we have a series of wacky events weakly held together to arrive at an inevitable conclusion.  Thankfully, for a film that is constantly half-baked, the last set-piece is not actually half-bad.
Carell has played the arrogant showman before but he seems uncomfortable here. Buscemi is much more at ease playing second fiddle but even he falls victim to some pretty lazy writing. Olivia Wilde is also pleasant as the slightly implausible love interest and assistant, Jane, but it is a pity to see her talent wasted again.
Unfortunately, the fact that this wastes such a promising cast just enhances the disappointment. Clichéd and generic, they could've left this one in the ideas box.
The Incredible Burt Wonderstone is in Australian cinema from 14 March through Warner Bros.