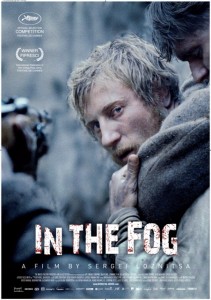 In the Fog is a grim tale set in predominantly in the forest of Belarus during the Nazi occupation of the USSR in 1942. Sushenya (Vladimir Svirskiy) is a Russian railway worker who carries an indescribable amount of pain. Arrested with a group of Soviets who sabotage a Nazi train, he unexpectedly is the only one to escape execution, leading those around him to believe he's collaborating with the enemy. Apprehended by his comrades Burov (Vladislav Abashin) and Voitik (Sergei Kolesov) and taken out into the forest to be executed. All three men are resigned to an undesirable fate, all facing the same dilemma; should you stick to your morals no matter what, or is it just easier to give up?
In the Fog is a story of punishment with the absence of crime and very much a character study. Sushenya is a man overcome by circumstance with no real way to preserve his dignity. A man of high morals, he would be happier dead than alive and falsely accused of something as treacherous as collaboration.
We are subject to three flashbacks that fill in the pieces and show us how circumstances got the three men to their current point. However not even the film's non-linear frame can hold audience attention for long enough. While In the Fog is incredibly slow paced, it seems as though director Sergei Loznitsa (My Joy) frames every sequence with immense purpose, although that purpose isn't always clear.
While the convincing performances somewhat save the film's arduous running time, ultimately Into the Fog is very long winded with a predictable ending. The mist that envelops the men is overly symbolic and one wonders why Loznitsa would choose such a formulaic conclusion to an otherwise well written piece.
In The Fog is in Australian cinemas from 14 March through Sharmill Films.