Played late last year on Channel Ten, Underground follows the early years of computer hacking and the early development of the amazing skills of the world's most renowned computer hacker, Julian Assange. Played by new comer and absolute dead-ringer Alex Williams, the film begins with Julian, his mother Christine (Rachel Griffiths) and his baby brother leaving her partner in the dead of night so as to avoid him staking them to "the Family", the well-known cult that kid-napped children, dyed their hair blonde and fed them LSD in a compound in the bush. Assange spent his childhood moving around the country running away from his mother's boyfriend before settling in Emerald, Victoria, where he started hacking computers.
Armed with a simple computer system, a modem and a phone line, "Mendax" and a small group of friends started hacking computer systems all over the world, before the Internet was launched. They were able to hack the US military website where Assange uncovered damning evidence that the US military had purposely bombed civilian refuges, resulting in the deaths of hundreds of women and children, in the early stages of US activity in Kuwait, Saudi Arabia and Afghanistan. The film follows the progress of these discoveries, Assange's instinct and intellect at work, and the investigation by federal police to crack the hacking ring and stop them getting into further trouble with the CIA and FBI.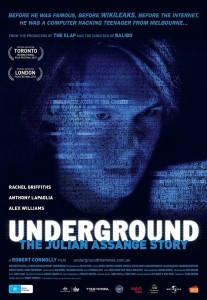 At early screenings of the film director Robert Connolly announced the launch of CinemaPlus, an initiative designed to make cinema an event, to stem the flow of piracy and to encourage people back into cinema's, particularly Australian films. So at screenings of Underground around the country, audiences will be giving a package including DVD special features of the film, a link to director's commentary which can be streamed during the screening, and invited to a discussion after the film with Robert, Christine Assange and members of Julian's political party, who will be discussing his intentions to run for senate. The DVD bonus features include a making of featurette and tracks from the original score composed by Gotye producer Francois Tetaz.
Underground is a thrilling look at the early days of a freedom fighting legend and one of the most prolific characters of our time, featuring an excellent cast of Australian heavyweights including Anthony LaPaglia and stunning newcomers including Laura Wheelwright who plays Assange's young bride and the mother of his son.
Underground is in Australian cinemas for selected screenings from 17 March through CinemaPlus and Footprint Films. More screening details can be found here.