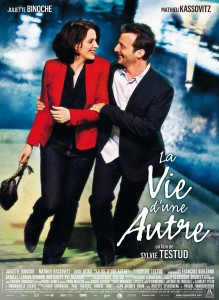 The directorial debut of French actress and writer Sylvie Testud, Another Woman's Life stars actress Juliette Bionche as a woman who awakes one morning to find that 15 years of her life have mysteriously disappeared. While undoubtedly an intriguing premise, it's not long before the conventional romantic comedy lurking within this material rears its head to suffocate the potential hinted at in the film's opening act.
At the outset, Marie (played by Bionche) is a simple woman in her late 20s who on her birthday, meets and falls for the wealthy Paul (Mathieu Kassovitz). After spending the night together, Marie wakes up the next day to find herself the CEO of a multinational company, living in an apartment overlooking the Eiffel Tower, and the mother of a young boy. She has married Paul in the intervening years, but their relationship is skirting the edge of complete collapse, and Marie sets about attempting to revive it.
Within the first half hour of its run time, the film's primary flaw is already glaringly obvious. The details of Marie's younger life, including her familial relationships and the beginnings of her corporate career, are barely sketched out before transitioning to the present day. This may very well have been a conscious decision by director Testud, enabling audiences to experience the protagonist's disorientation after the time shift occurs. The unintended consequence of this is the difficulty in fully empathising with Marie as a character, given that she remains a distant and poorly defined figure throughout.
The film does contain same vague musings about love and the passage of time. However, all of that is brushed aside to exploit Marie's fish out of water situation for cheap laughs, as well as to end on a tediously predictable note. As always, Bionche is a reliable performer, but even her charming mugging to the camera is not enough to rescue this wisp of a film.
If you see one title at this year's French Film Festival, you are best advised to look elsewhere.
Another Woman's Life is playing as part of the Alliance Francaise Film Festival across Australia.