In the prologue to Susan Lacy's American Masters special Inventing David Geffen, the man in question speaks about creating a life and an idea of success that he seems destined to achieve. And that he did, becoming one of the most successful show business moguls of the late 20th century and onwards.
Humble beginnings in Brooklyn set young David Geffen up for a better life. Armed without the smarts required to excel in school, ambition took over instead. Born to Ukrainian parents who moved to New York as the Great Depression hit, an early blueprint was set out from his mother to build a business up from nothing. And boy did Geffen follow that blueprint! From the mailroom of the William Morris agency, Geffen quickly ascended to the role of agent and then manager in the recording industry. From here the contemporary impresario was born, and his many achievements could fill paragraph after paragraph.
Geffen is presented by Lacy in a very subjective light as an awe-inspiring legend, based on words from the main himself and all of the interviewees. To consider his accomplishments without an agenda would have the same end result though. Whether looking at his career subjectively or objectively, it is undeniable that Geffen is a powerful and influential figure, and Lacy's film delivers on this fact with engaging success.
Personal faults and shortcomings are revealed, but not expanded upon in too much detail, instead choosing to favour more of a necessary shrewdness required for business. This is especially noticeable early in the film, when his relationship with singer/songwriter Laura Nyro is discussed. Geffen was a servant to Nyro, who in turn inspired Geffen's work ethic in muse-like form; Geffen wanted the world to hear Laura Nyro. When Geffen finally created his own record label, Nyro did not follow in an act that is described as treachery, leaving the young music manager broken hearted. This is an affecting moment in the film, but one that only hears Geffen's side of the story. An interview subject briefly offers Nyro's possible viewpoint, but without the explanation from the publicity shy (and now deceased) Nyro herself, all of the reasons for the act are left unknown.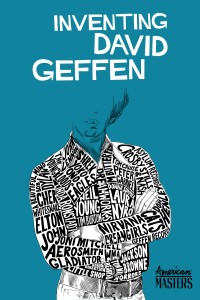 Nyro's betrayal serves as a narrative segue into Geffen's ever-increasing ambitious desire to do better, and in turn become the omnipresent figure he is today. More interesting moments in the film surround a long-resided shame in his homosexuality, despite having a bizarre 18-month heterosexual relationship with Cher in the 70s. Both Geffen and the pop diva confirm the legitimacy of their relationship, most poignantly refuting public ridicule and quotes such as "what fag isn't in love with Cher."
Musical interludes are the definite highlight of the film with footage and concert performances from Crosby, Stills, Nash and Young, Joni Mitchell and Jackson Browne just to name a few. I will admit profess a personal fondness for music of this era, which undoubtedly increased the enjoyment levels of these musical moments.
Having long been a fan of the American Masters series (beginning after seeing the Joni Mitchell episode "Woman of Heart and Mind" ten years ago), Inventing David Geffen does not disappoint to completely submerge the viewer in the world of the subject. Geffen is as impressive when personally interviewed, as when described by Steven Spielberg, Tom Hanks, Yoko Ono, Jann Werner, Neil Young and many more.
Premiering at Toronto Film Festival last year, it is a treat to see one of the American Masters documentaries in a cinema, especially one so intertwined and involved with the golden era of folk and rock music.
Inventing David Geffen plays a special season at the Australian Centre for the Moving Image from Thursday 7 March – Sunday 10 March.